The first ever slot machine was designed and manufactured by Charles Fey. This was a simple 3 reel slot with a single winning pay line and 5 pay table symbols in total. It was operated by a lever, which when pulled set the reels in motion. Later on this lever brought the name "One Armed Bandits" to slot machines. The game was called the Liberty Bell, because the top payout in the slot came from landing 3 Liberty Bells on the central winning pay line. The game found its way to many stores around the US and soon after Liberty Bell slots were being shipped all around the world. People enjoying playing the game and after that the slot machines started developing to the level they are on today.
How do slots work?
Slots are so popular among players simply because they are very easy to play. All you need to do is choose your game, set your bet size and hit the spin button. There's nothing to it and everyone can play slots, no matter if they're a newbie or experienced players. The games function via a Random Number Generator (RNG) which determines the outcome of every spin. This ensures that the payouts in the slots are random and can't be manipulated from the outside.
Categories of Slots
In general all slots are similar, but there are some crucial differences which set them apart. Once you start playing slots you can easily see which category suits you the most. Most experienced players stick to one category of slots and play them on a regular basis.

Classic Slots
These slots are also called fruit slots because most of them have fruit symbols in the pay table like Cherries, Lemons, Grapes and Oranges. They usually have a simple 3 reel design with 1 to 5 active pay lines. Most of them don't come with any bonus features attached, but usually they have a very rich pay table and can produce some great payouts.


Video Slots
This is without a doubt the most popular category of slots you can come across at online casinos. Video slots are more advanced compared to classic slots and almost all of them have 5 or more reels and some bonus features. Video slots are fun to play because they can produce big payouts in the bonus rounds and also have attractive visual details and animations.

Progressive Slots
These games fall into the video slots category, but they have a bit more advanced bonus rounds. In these types of games as you play you unlock new features. So the more you play the better the features become. A perfect example for progressive slots are the i-Slots from Rival Gaming or some popular names like Immortal Romance, Thunderstruck II and Playboy.

3D Slots
These are also video slots, but they come with more advanced animations. These types of games were first introduced by Betsoft Gaming, but they really became popular when NetEnt came back on the market with their brand new collection of slots led by Gonzo's Quest. This 3D slot really shows what these games are all about and the high level of quality which is used in their animations.

Jackpots
Jackpot slots are always popular among online players simply because they can produce monstrous winnings, sometimes ranging in the millions of dollars. The two most popular jackpot slots in the world are without a doubt Mega Moolah (Microgaming) and Mega Fortune (NetEnt). Winning the Mega Jackpot on these slots is certainly a life changer since the amount can easily surpass $15,000,000. The best thing about these jackpot slots is that the top prize can be won while playing on minimum bet.
Slots Explained
Pay Lines
Pay lines are simply lines which go across the reels and rows of the game. This is where the symbols land and usually if you manage to land 3 or more winnings symbols on an active pay line a win is formed. On most slots the wins are formed from left to right, but there are also slots where wins can be formed both ways or even among 3 or more adjacent matching symbols, regardless of their starting positions. Some more modern video slots also use an all ways win design where you need to land 3 or more matching symbols on adjacent reels regardless of their position on the rows.

Wild (Joker) Symbol
This symbol is probably the most important symbol in video slots. In most cases it acts as a substitute for all other symbols in the game. Depending on the slot the Wild symbol can have other extra features. He can come as a Multiplier Wild awarding a multiplier when it substitutes in a winning combination, Sticky Wild where it stays in position for the duration of the feature or Expanding Wild where it expands to cover the entire reel or a few positions on the reel. The function of the Wild symbol is native to each slot, so you can expect to see it in many different functions.
Scatter (Bonus) Symbol
The Scatter is usually the symbol in the game which triggers the bonus feature. But you can also find Bonus symbols in some slots which have the pretty much same function as the Scatter symbol. This symbol also usually comes with a high payout of 100 times the total stake or more if 5 or more of them land on the reels, depending on the slot.
Free Spins and Cash Bonus
In most slots the Scatter and Bonus symbols trigger either a free spins or a cash bonus. The free spins are a number of spins which are awarded when the feature is triggered. They usually come with some extra features attached like a Win Multiplier. The cash bonus is a bonus round where the player makes picks on the screen and in return a cash prize is awarded.
Slots Variance
The slots variance is simply put the frequency of payouts which the game produces. Slots with low variance produce frequent payouts, but they are usually smaller in size. On the other hand high variance slots produce fewer payouts, but with a higher value. So in general players can choose to play high variance slots on smaller or medium bets and hope for a big payout or play low variance slots on higher bets and gradually increase their balance.
Slots RTP
Every video slot has a promoted RTP value. This is the amount of bets the game is promoted to return to the player in form of wins over a promoted period of times. Many players like to play slots which have a high RTP value, since they seem to be the most profitable. But you also have to take into consideration the game variance and the overall payouts it can produce in the bonus round.
How to win on slots and which slots to play?
This is never an easy question and the answer is never simple. The first thing you need to consider is your starting bankroll. If you play with a small balance it's a good idea to play low variance slots first and try to gradually increase your balance. This way once you have enough funds you can try some high variance slot in the hope that you will win big in the bonus round. If you are playing with a bonus and a bigger bankroll it's recommended to start with medium bets on high variance slots. If you win big you can later transfer to low variance games and clear your wagering requirement without risking too much of your balance.
But in the end it all comes down to luck and the games you play. Some games simply won't be in your favor no matter how much you play them. Your friend can be winning on them all the time, but it's just not working out for you. So, you need to find games which you are lucky on. After a while you will get to know how the game works in terms of payouts and you can increase your chances of winning in the long run. Here are some of our favorite slots on which we win on a pretty much regular basis and a some tips for each one.
Book of Dead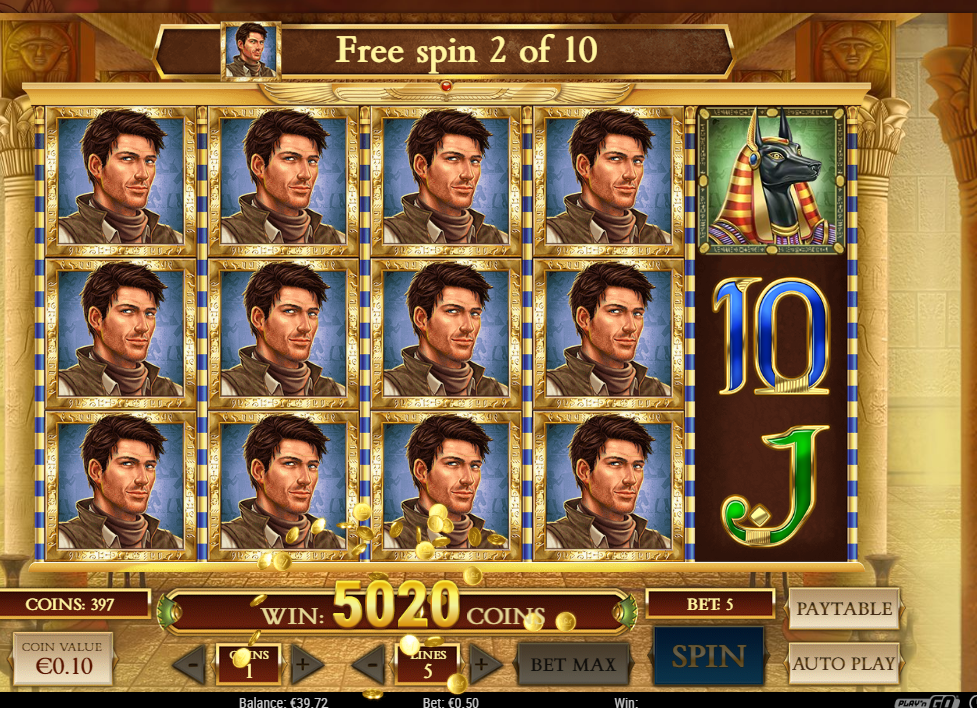 Book of Dead is quite a popular slot coming from Play'n Go. The game has a medium variance and a top payout of 5,000 coins if you manage to land 5 of the top paying symbols on a winning pay line. The free spins bonus in the slot is triggered by landing 3 or more books anywhere on the reels, in which case you are awarded with 10 free spins and a Special Expanding symbol. This symbol will expand on the reel during the feature and awards scattered payouts. So the most you can win in a single spin in this slot is 50,000 coins.
Our strategy when playing this slot is to play on 5 pay lines instead of the standard 10. This reduces the game RTP value and increases the variance. But in return the payouts in the bonus round are much bigger. Play this game with 50 auto spins, turn it off then repeat the process. On the second or third series you are guaranteed to hit a good bonus round.
Casanova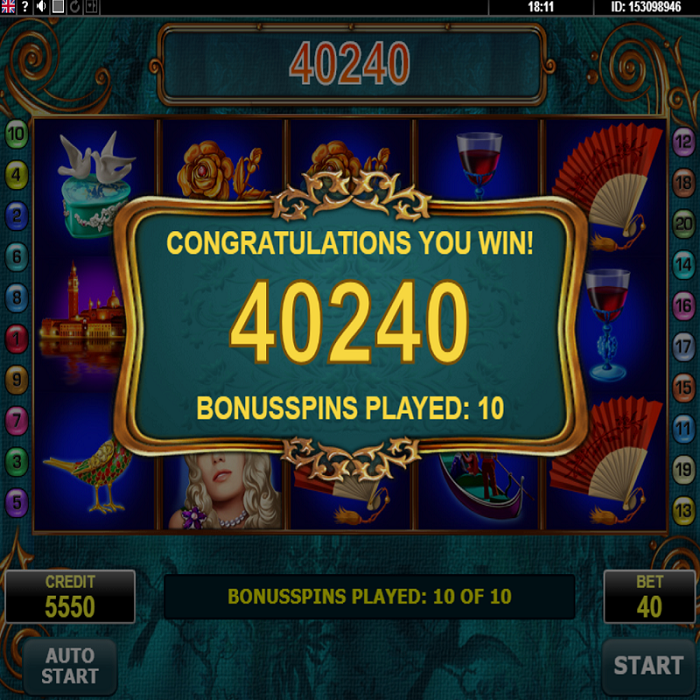 Casanova is one of our favorite Amatic slots and is a relatively easy slot to win big on. The feature is triggered by landing 3 or more masks on the reels, awarding you with 10 free spins. During the bonus round all Wilds which land on the reels will expand to cover the entire reel. This way you can easily get a full screen of Wilds and a 1,000 times the total stake payout.
The strategy for this slot is very simple. You need a $50 starting balance and you should start with $0.40 bets. Play down to $30, turn off the game and turn it back on. Now raise the bet to $0.60 and play the remaining $30. Usually the second bonus round awards 2 re-triggers and awards a payout of at least 100 times the total stake.
Diamond Cats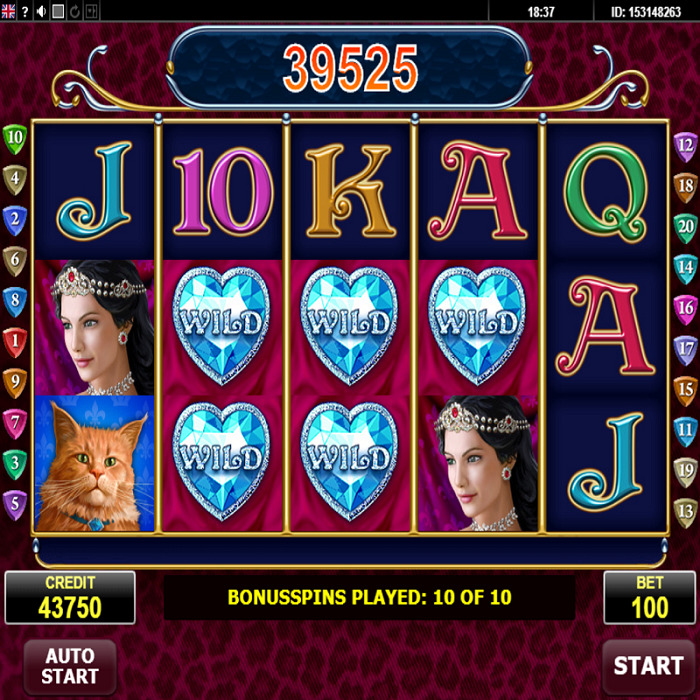 This is a very powerful slot coming from Amatic. The bonus round is triggered by landing 3 scatters anywhere on the reels. You are awarded with 10 free spins where all Wilds which land on the 3 Central Reels become Sticky Wilds. This way you can easily get a big number of Wilds, especially if you manage to re-trigger the feature. With a little luck you can land matching symbols on the first and last reel which is a guaranteed big win on the screen.
For this slot you need a starting balance of about $60. Start playing the game on $0.40 bets until the first bonus round lands. If it pays poorly don't be disappointed, this is exactly what you are looking for. Raise your bet to $0.60 and keep on playing. It will eat away most of your balance but when the second bonus feature comes it will easily pay 200 times the total stake or more.
Golden Book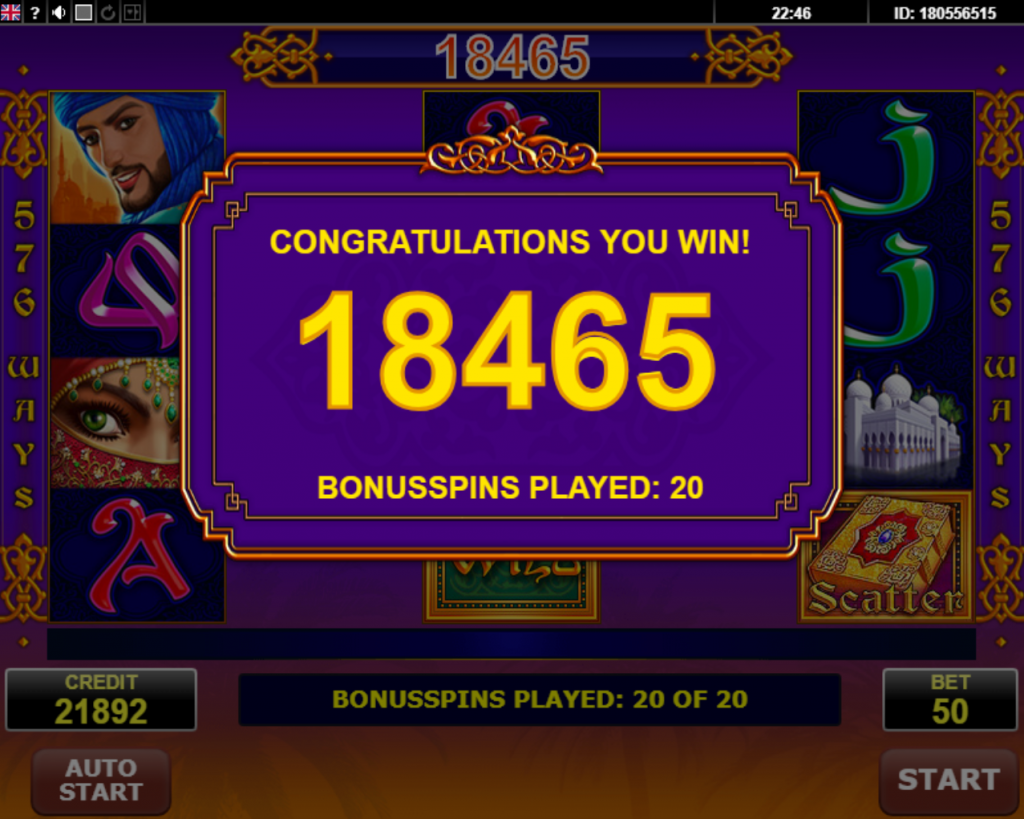 Golden Book is also a great Amatic slot, but it's very hard to force a big win from this game. All of the game symbols except for the Scatter can land stacked on the reels. The slot has a 576 ways to win design and an attractive bonus round. You will need to land 3 Books on the screen to trigger the feature, awarding you with 10 free spins. During the feature the Stacked Wilds on the 3 central reels tend to come more often. You can easily land them on one spin and if you land matching symbols on the first and last reel you are in for one big surprise.
The strategy for this slot involves a starting balance of $100 or more. Start playing $0.50 bets until you hit 2 bonus features. These usually play poorly, but after that raise your bet to $1 per spin and keep on playing. The third feature is guaranteed to pay big.
Hot Scatter
At first look Hot Scatter seems like a very simple and non attractive slot. But it can produce some great payouts, since it has a tendency to award a big number of re-triggers in the bonus round. My personal best is 105 free spins in total. The feature is triggered by landing 3 Stars on the reels, awarding you with 15 free spins where all payouts are multiplied by x3. Thanks to the rich pay table and the Stacked symbols on the reels you can score some great payouts.
For Hot Scatter you will need a starting balance of $100 or $200, depending on the bets you want to play. Start with $0.50 or $1 bets depending on the balance, play until you hit the first bonus round. It usually pays about 30 to 50 times the total stake. After that raise your bet to $1 or $2 again depending on your starting balance and hope that the second feature lands. Here you usually win 100 times the total stake or more, depending on the number of re-triggers you get.
Ramses Book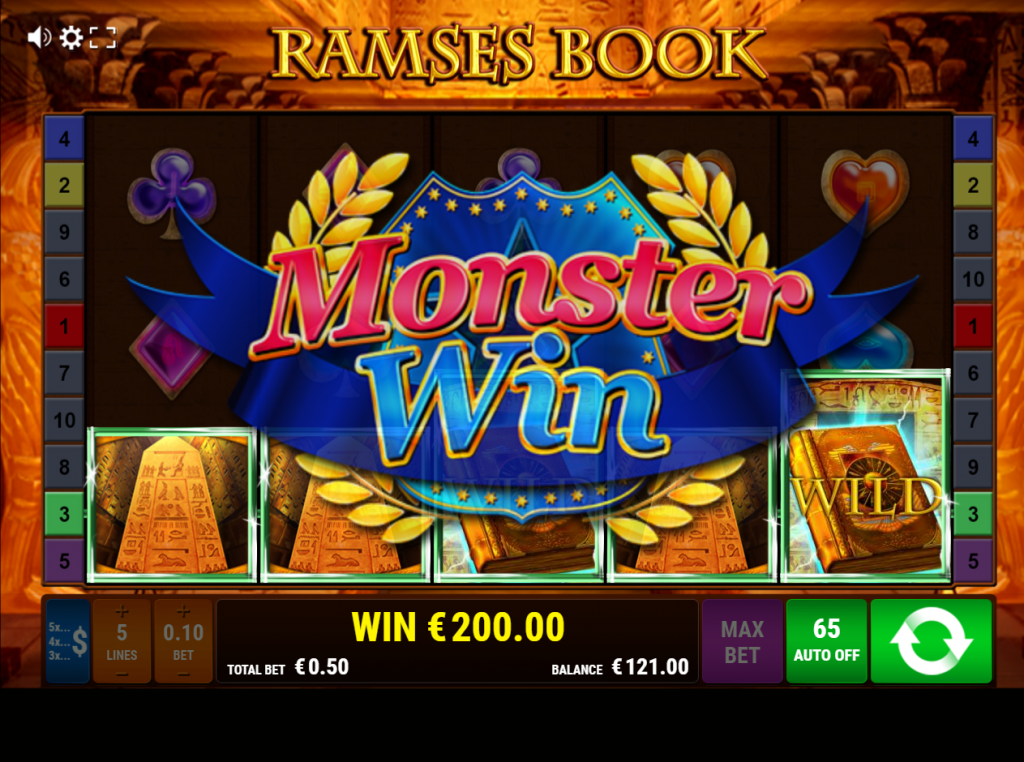 Ramses Book is quite similar to Book of Dead. You can play the slot on 10 or 5 active pay lines, but I always prefer to use 5 pay lines, since the payouts are much bigger. The bonus round is triggered by landing 5 Books on the reels, which is the Scatter and Wild symbol at the same time. You are awarded with 10 free spins and one Special Expanding symbol from the pay table.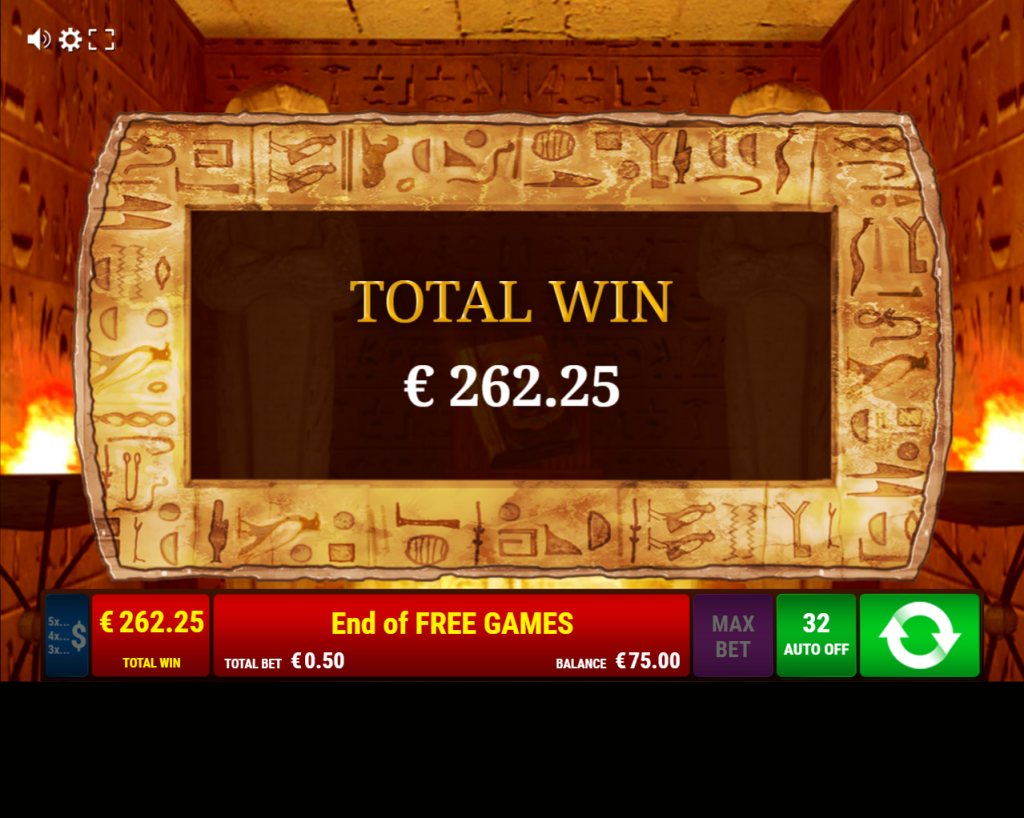 This is a game which I like to call 100 spins slot. You need to have enough starting balance to play 100 to 150 spins. If the bonus round doesn't come in these spins it usually lands after 300 spins and pays nothing. So play Ramses Book with money you are ready to lose, without depending on it too much to win big. But when it pays it usually pays in the range of 200 times the total stake and more.
Hot Star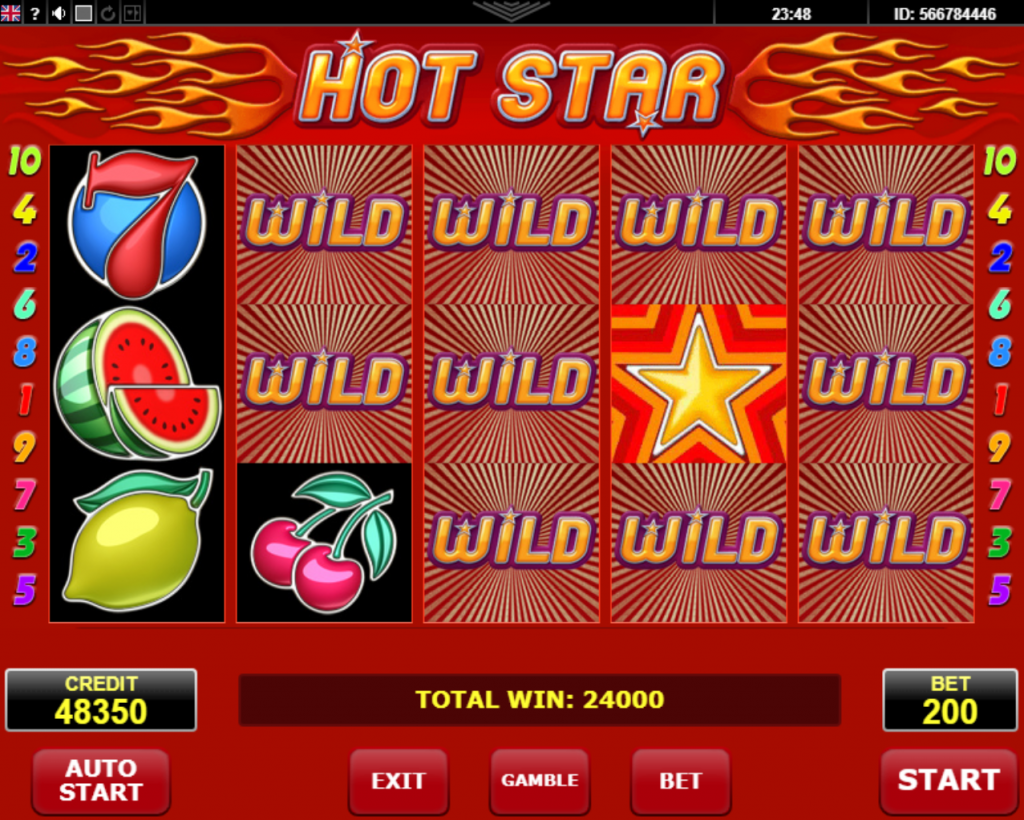 This is probably the easiest slot to win on from all others. It has a 10 pay line design and Stacked Symbols. The pay table is rather poor so it's recommended to play on higher bets if you want to win anything decent. Hot Star doesn't have a classic bonus round. Instead there are Star symbols which can land on the reels. All neighboring symbols to the Star will become Wild symbols.
The strategy for this slot is very simple. No matter which bet size you play on first play 25 spins. Turn the game off and turn it back on, doubling your initial stake. Play another 25 spins and you should land the Stars 2 times. This happens in the second or third series. Usually the payouts are smaller, but with doubling your stake you always come out with profit.
Roman Legion Extreme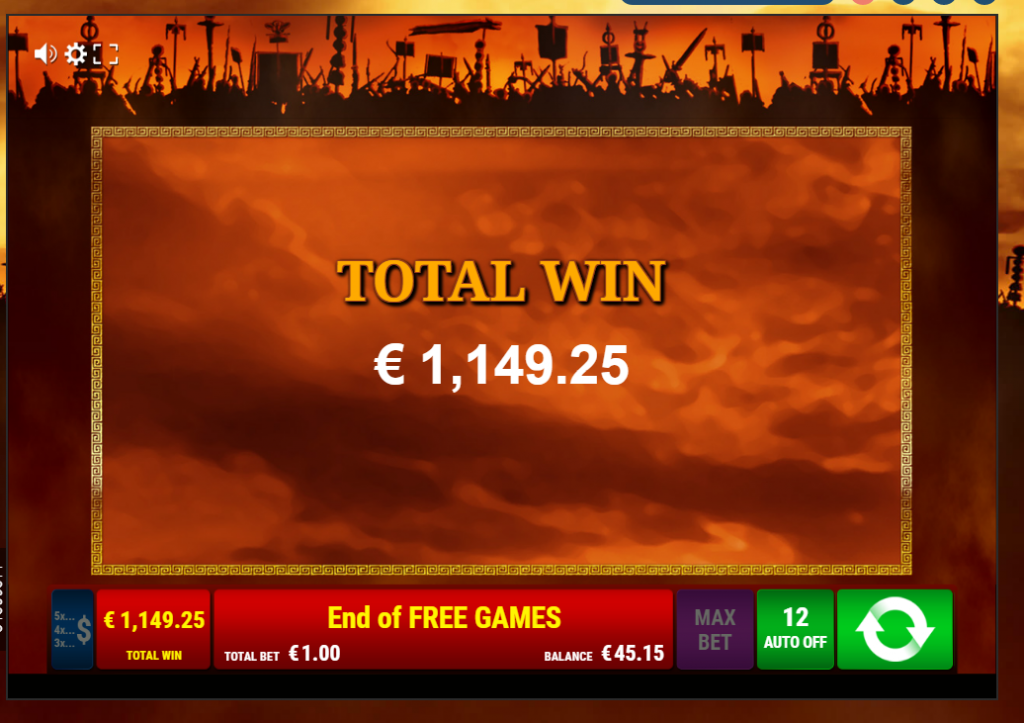 This is another one of my 100 spins slots. The slot has an unusual design where you see 10 reels and 20 active pay lines. This is basically two games connected into 1. You need to land 3 or more scatters on the reels to trigger the feature, where you are awarded with 10 free spins. The bonus can't be re-triggered and all Wilds which land on the reels will remain in position for the duration of the free spins. On the first 5 reels the Wilds land as single symbols, but on the last 5 reels they can land as Stacked Symbols.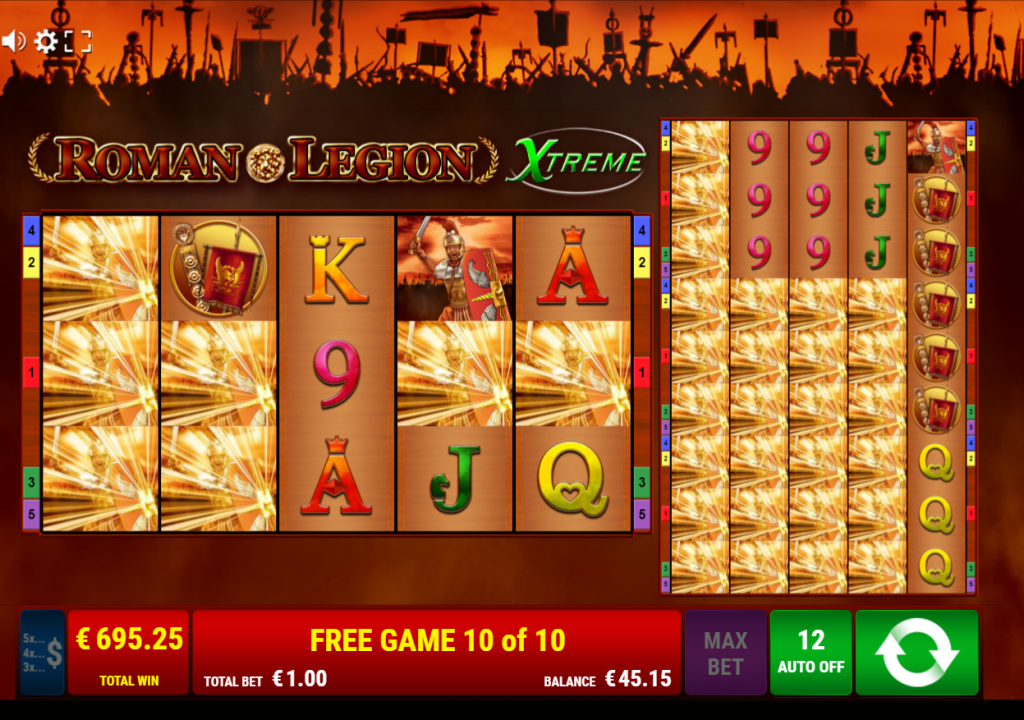 Play this game with a $100 starting balance and on $1 bets. This is more than enough to see if the game is in mood to pay or not. Usually it always delivers a bonus round within those 100 spins. The only question is whether the Wilds will be in the mood to land on the reels or not.
The Wish Master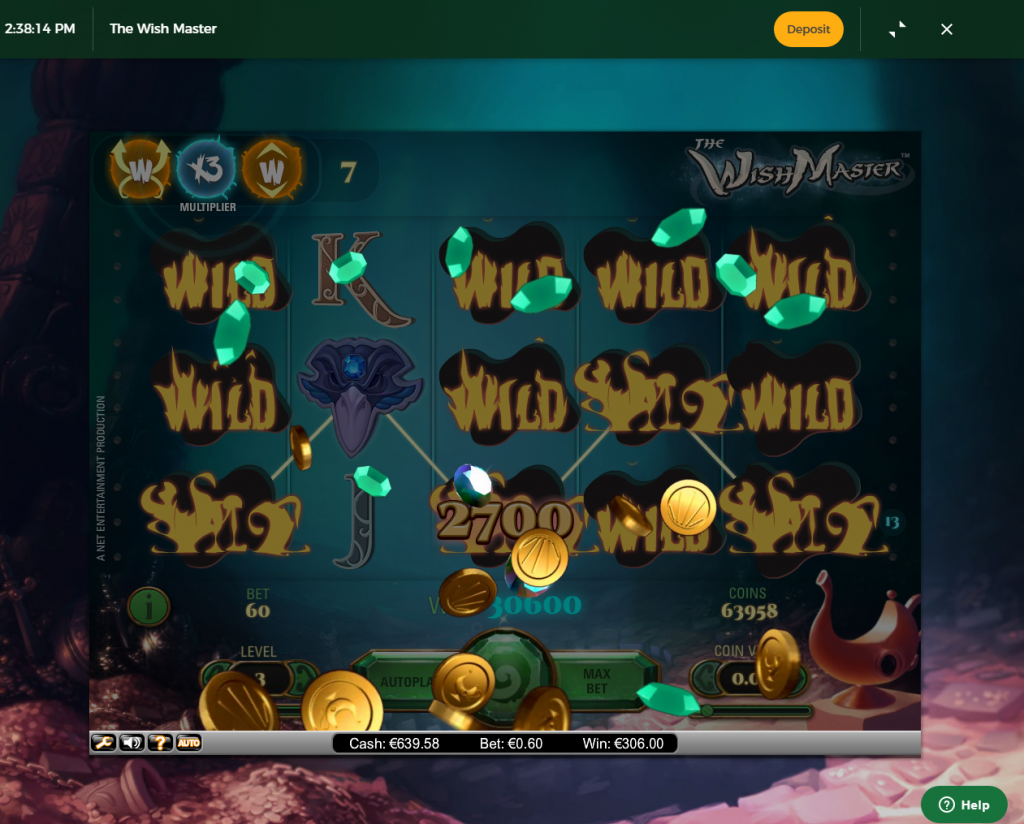 The Wish Master is a very popular NetEnt slot, but believe it or not it's also one of my 100 spins slots. The bonus round in the game is triggered by landing one or more lamps on the reels, awarding you with 10 free spins and one extra feature. Every additional lamp awards another 5 free spins and unlocks an additional feature. The bonus features are Random Wild, Extra Wild, x2 or x3 Multiplier, Expanding Wild and Wild Reel.
Personally I like to play this game on $0.60 or $1 bets. Just set 100 spins in auto play and wait for the bonus features to come. Usually the first two features land with only one lamp and pay nothing, while the third one comes with 2 or 3 lamps and pays big. If you don't get a big win in the third feature don't bother playing the game anymore. Try it at some other casino.
Wild 7
Wild 7 is a very interesting Amatic slot, despite the fact that it doesn't have a classic bonus feature. All of the game symbols, including the Wild, can land stacked across the reels. This way you can easily get a full screen of matching symbols and a great payout on your account. The Wild symbol will double any payout it contributes in, so you will want to see them in every winning combination.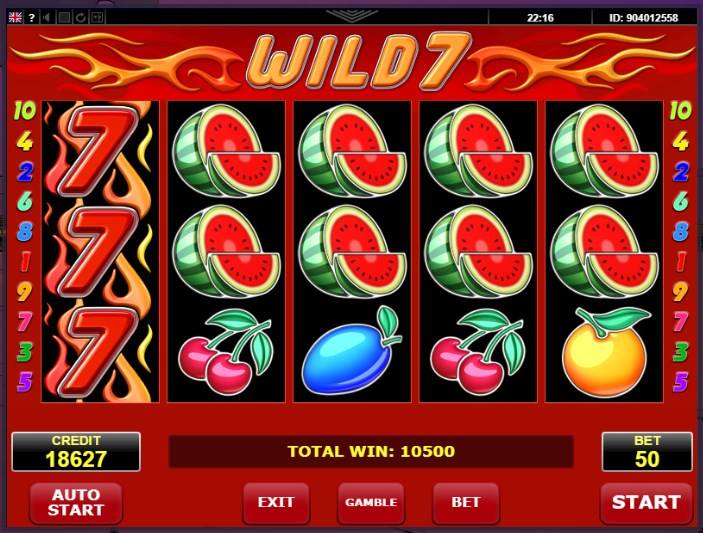 This slot is fairly easy to read. You need a starting balance of about $100 and your initial bet is set to $1. Just play the game and keep an eye on the payouts until you hit a win of about 30 to 50 times the total stake. Play another 20 spins and double your bet. You will surely hit another decent payout and increase your balance. But after that stop playing and move on since the slot goes cold and can easily eat away all of your remaining balance.