Why you should play Gamomat high variance slots
When playing at online casinos it's easy to get overwhelmed by the sheer number of slots each casino has in its offer. Some casinos which are powered by several software providers can easily have a few thousand slots altogether. So, sometimes it's hard to find which games to play hoping that you will win big. Before we move on to recommending which slots to play I want to explain  the types of slots which can be found across online casinos and what each has to offer.
Low Variance slots. Low variance slots are games which produce frequent payouts which are usually small to medium in size. The thing with these games is that you need to play them on higher bets, so you can gradually increase your balance over a period of time. Playing low bets on low variance games will get you nowhere, since the payouts are too small to make a significant change in your balance. On the other hand these types of slots are great when you need to wager a big amount of money without losing too much of your balance.
High variance slots. These types of games are the exact opposite of low variance slots. Payouts in high variance slots come less frequent, but they can be much bigger in size. You can play these games on all kinds of bets depending on your current bankroll. Just know that you need to have enough balance for at least 100 to 200 spins in order to have a good chance to trigger the bonus round and get a big payout. High variance slots are well worth playing since they can produce payouts of several thousand times the total bet. If you play even on the minimum bet this is still a big payout.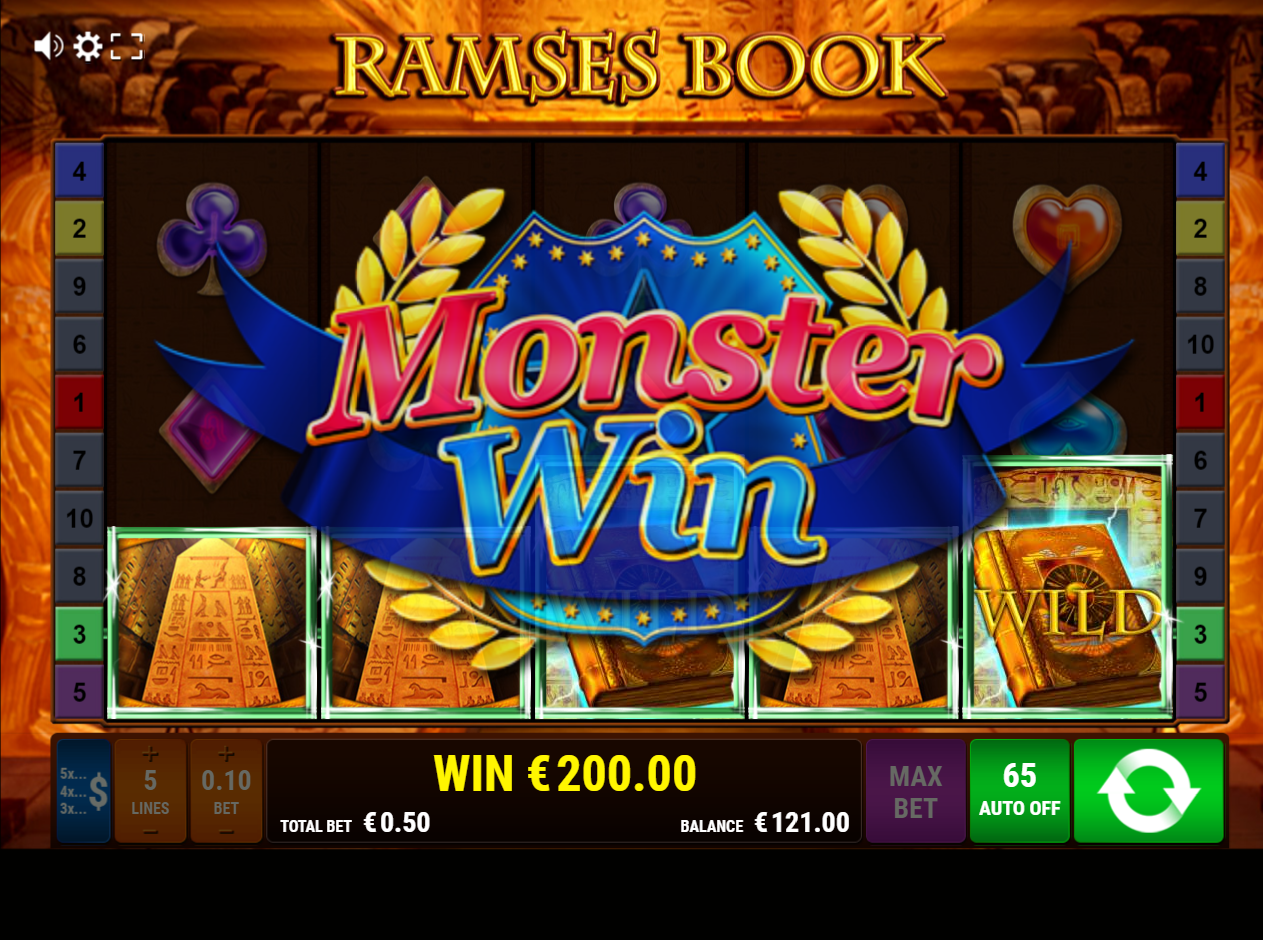 A less known software provider
Many newbie players make a crucial mistake when they start playing at online casinos. Led by the trends in the industry and recommendations from affiliates casino sites most players try their luck on slots coming from the leading software providers like Microgaming and NetEnt. But after a few long years spent at the casinos I can tell you that these games pay big very rarely. I always like to quote a friend of mine when it comes to Microgaming slots. " In Microgaming you will in big. You will lose a fortune trying to get there, but you will get a big win" After countless of deposits I learned that this is really so. Yes, I've won big while playing Immortal Romance. Got the Wild Desire feature twice with 4 Wild Reels, but compared to the number of times I've played the game the payout is nowhere near to cover my losses.
This is why I started looking for new games from less known providers and came across Gamomat. They are a German based company coming from Berlin and are a big land based casino supplier in the country. They moved their casino games to online casinos and are gaining in popularity on a rapid note. So, why do I like their games so much? Well the big wins come much more frequent and are bigger in size than on any other software provider I've seen. I also noticed that their slots react well when you change the bet. I can be playing on minimum bet and raise to $2,5 per spin and the game play doesn't change. I like to play their games on $0.50 to $1 bets and it's more than enough to make a $500 profit and walk away as a happy camper. So here are some of their best high variance slots from Gamomat and some tips on how to win on them.
Ramses Book
Ramses Book is a very attractive slot featuring an Ancient Egypt theme with Ramses the second as a main game symbol. Compared to other slots this game is most similar to Book of Dead by Play'n Go. You can play the game with 10 or 5 active pay lines. Personally I prefer to play with 5 pay lines. The payouts are much bigger and it also changes the variance of the slot.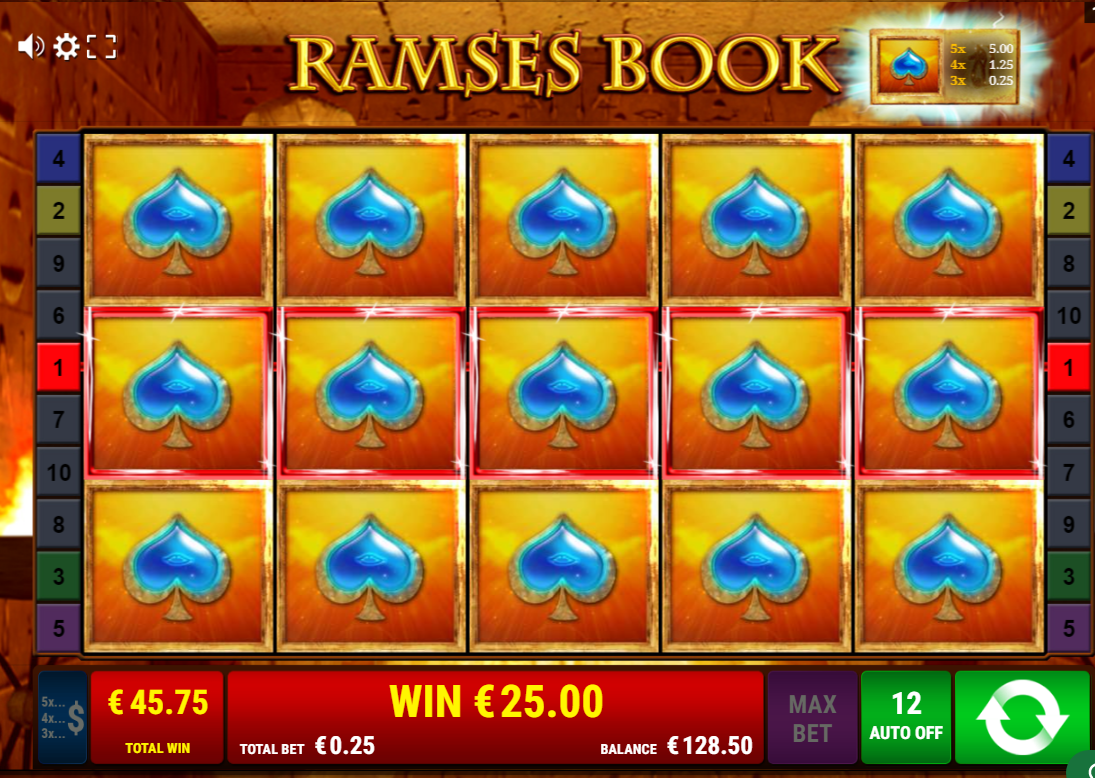 Higher variance equals bigger payouts. The game has a free spins bonus which is triggered by landing 3 or more Books on the screen, which is the Scatter and Wild symbol at the same time. The free spins can be re-triggered by landing another set of 3 or more books. Before the free spins start one symbol from the pay table is chosen to act as a Special Expanding symbol. When it lands on a reel it will expand to cover the entire reel and award scattered payouts. You can easily get a full screen of matching symbols in one or more spins during the feature.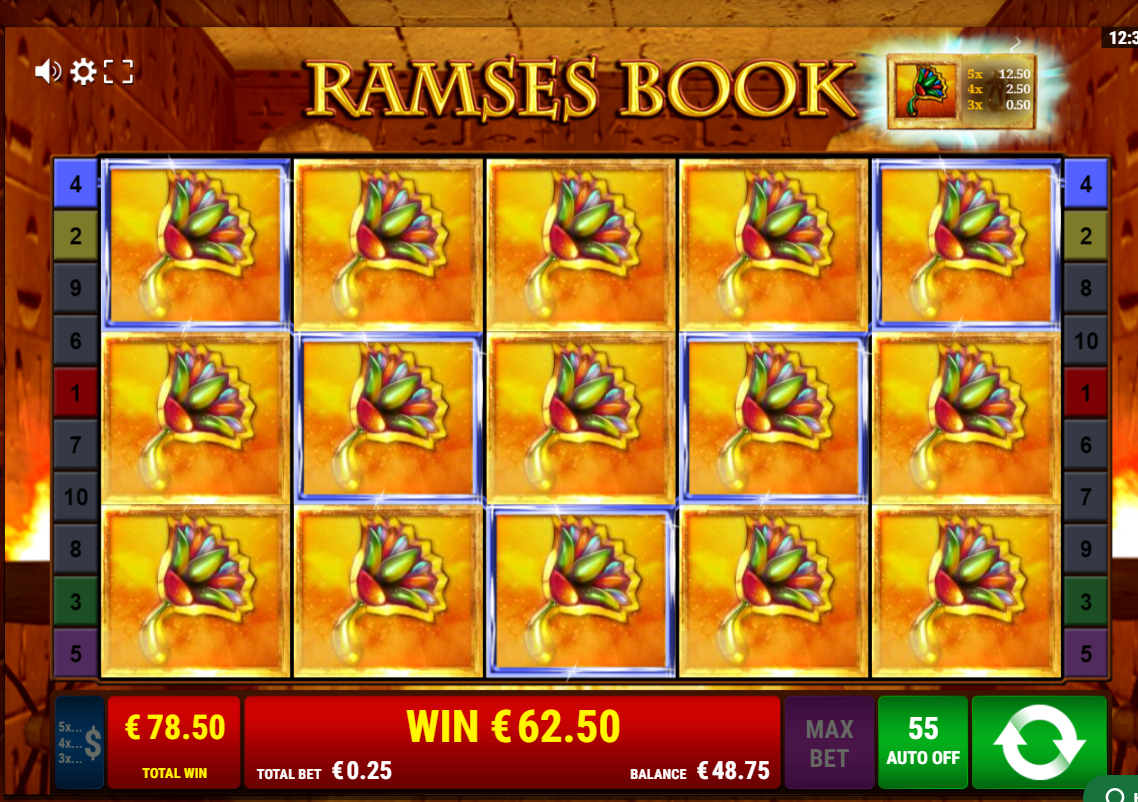 For this slot I noticed that it's best to play on 5 active pay lines and with flat bets. If you start playing on $0.50 bets keep it up till the end. You will need enough balance for 200 spins in order to ensure that you land the bonus round. Usually it comes within 100 spins, but I also noticed that sometimes it can take well over 150 spins to land the bonus. The best payouts in the slot come from the low paying card suit symbols, the flower and the pyramids. The cats, the eagle and Ramses himself rarely pay big.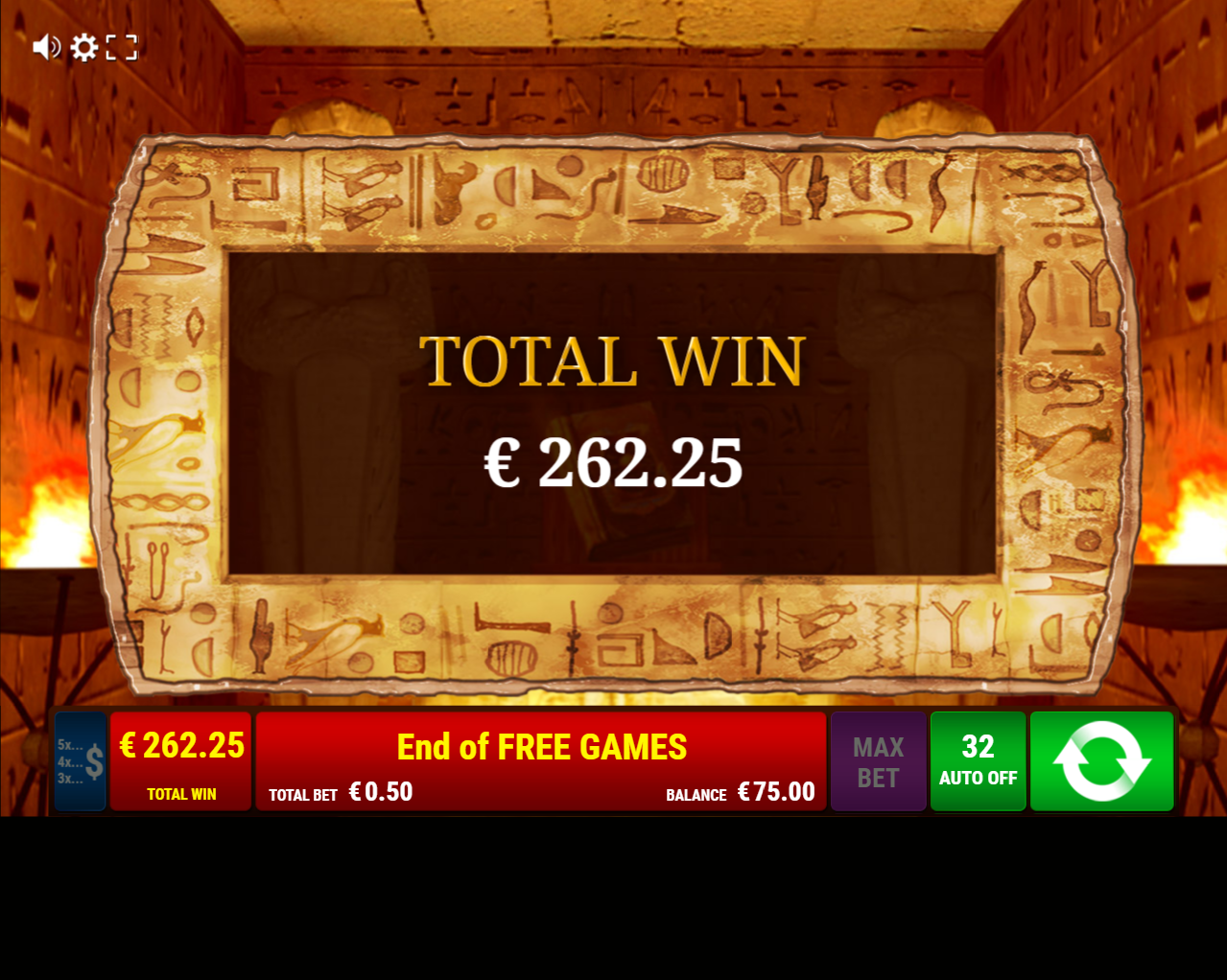 Crystal Ball
Crystal Ball is the baby brother of Ramses Book. Both slots have an identical game play and payouts. Crystal ball has a 5 pay line design and hasn't undergone any changes since it was released. Usually when I play at an online casino if Ramses Book doesn't pay I move on to Crystal Ball or vice versa depending on which slot I started playing first. In 90% of the cases one of these games pays and usually pays big. The bonus round is pretty much the same. You need to land 3 Balls anywhere on the screen in order to trigger the feature. Once this happens you are awarded with 10 free spins and one Special Expanding symbol. What I like about this slot is that usually it's very easy to get a re-trigger. On the other hand it rarely awards a full screen of matching symbols, but you get 4 matching reels several times which is still enough for a big payout. The biggest payouts in Crystal Ball come from the card symbols and the Wizard. The rest of the symbols like the potion or unicorn rarely pay big.
Roman Legion
I like to think about Roman Legion as the equivalent of Dead or Alive from NetEnt, only much better. The slot has a simple 5 pay line design and comes with a rich pay table. Landing 5 Wilds on a winning pay line will bring you a payout of 500 times the total stake, while the highest paying symbol awards a payout of 200 times the total stake. The bonus round is triggered by landing 3 Scatters on reels 1, 3 and 5 and you are awarded with 10 free spins. Unfortunately the free spins can't be retriggered.
During the feature every Wild symbol which lands on the reels will become a Sticky Wild symbol. This way you can easily get a big number of Wilds on the reels and a Wild Line for those massive payouts. For this slot you need a balance to play 200 to 300 spins.
A bonus round can come early, but it usually takes well over 100 spins to hit it. When a feature lands all you need is for the Wilds to start landing early. One Wild Line is enough to walk away with a massive payout. This may seem hard to do but believe me payouts like this come more often in this game then you think.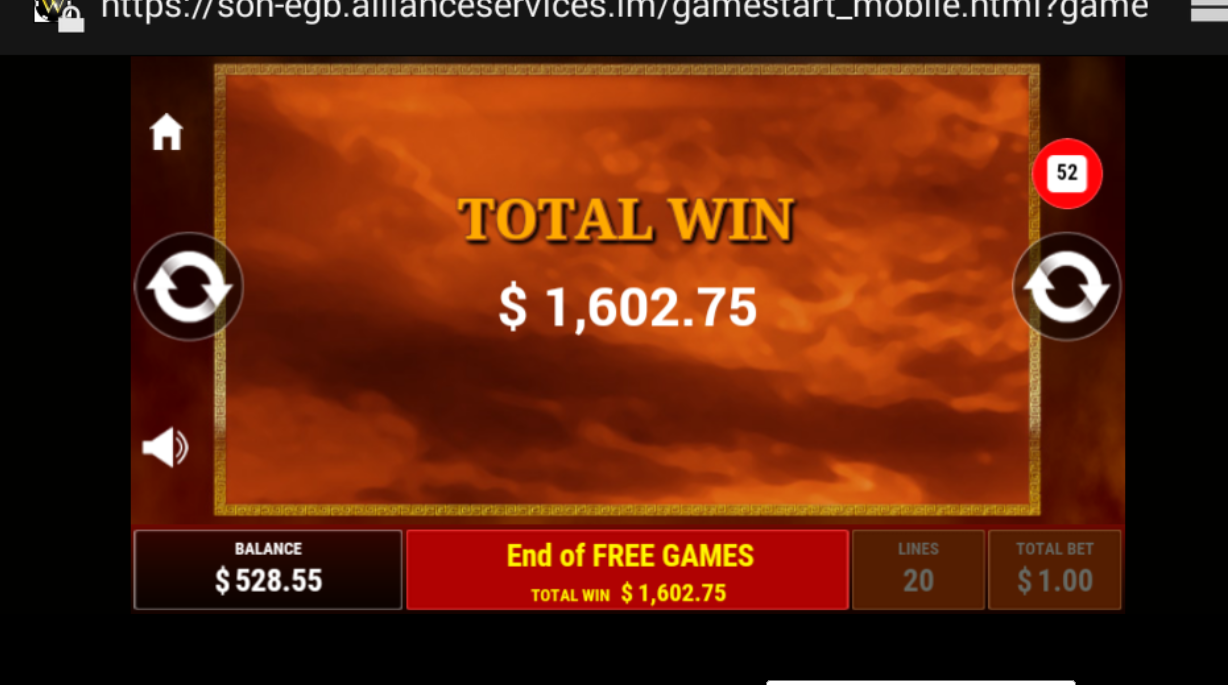 Roman Legion Extreme
Roman Legion Extreme is a sequel of Roman Legion. This slot is basically two games in one. There are a total of 20 active pay lines, with 10 reels in total. The first 5 reels are classic with 3 rows and 5 pay lines, while the other 5 have 9 rows in total and another 15 pay lines. The bonus round in the slot is triggered by landing 3 or more scatters which can land on reels 1, 3, 5, 7 and 9. You are awarded with 10 free spins regardless if you land 3, 4 or 5 Scatters.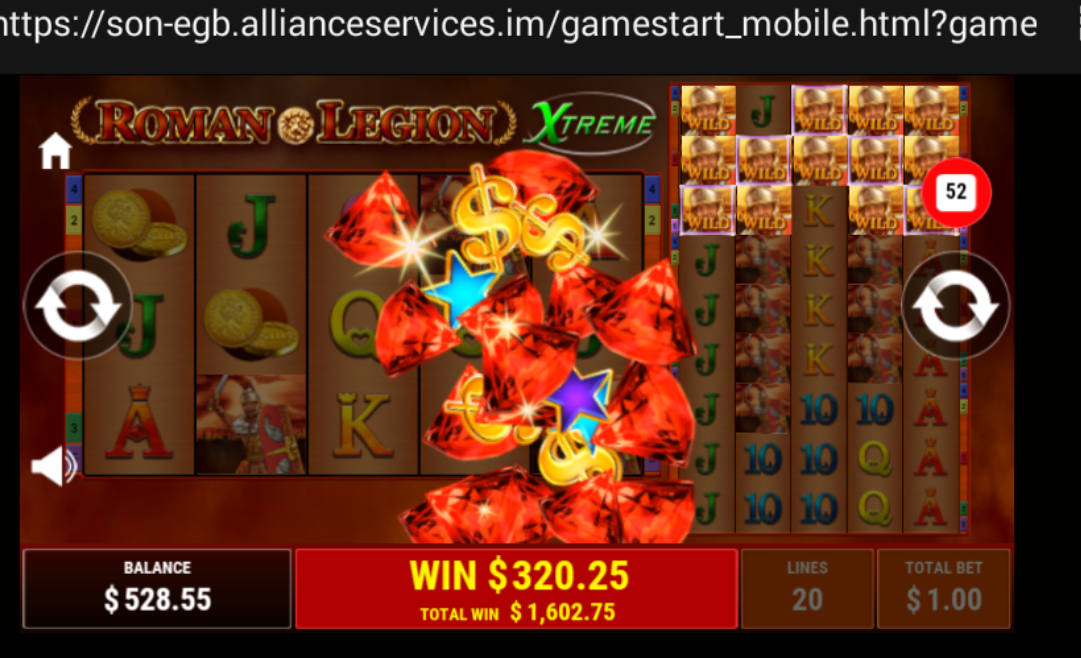 The feature functions the same way as Roman Legion. Every Wild which lands on the reel becomes a Sticky Wild for the duration of the feature. But there's one crucial difference. On the last 5 reels the Wilds land as Stacked Wilds. So you can easily get a few reels covered partially in Stacked Wilds and you can easily get a Wild Line. This game is pretty straightforward to play. I noticed that most of the times the bonus round comes in the first 100 spins. So, I like to play it with a $100 balance and on $1 bets. If it pays in the first 100 spins you can win big, if not move on to another game.