7 Sins | Slot Game Review
The Vitals
In More Words
The sins of life are known to be very deadly as it can get you to nowhere; just like becoming greedy when gambling. But in this gambling game of 7 Sins by Play N' Go, you will never commit the sin of greediness as they employ a good way to manage your gambling. It's just that the 7 Sins is beautifully designed to make male players feel attracted in playing the game due to the sinful theme of the game's design – which even shows women who represent the seven sins.
The game is designed after a dark magical world. Even the frames and buttons of the slots are themed after dark magic to symbolize how powerful a sin is. High card values are shown as part of the slot paytable, while other symbols include women who represent the seven sins: Pride, Envy, Gluttony, Sloth, Lust, Greed and Wrath.
To begin, players must set their bets based on the given bet range. Pressing auto play can place one bet on multiple spins without the need to press anything. The bet max option allows you to bet at the highest amount for an all-out experience to see if you can beat the seven sins or not!
Bonus Features
Wild Symbol – The wild symbol is the lucky 7 of the game. This symbol substitutes symbols in order to allow easy combos for more chances to win. Activating one or two wilds beside a normal symbol can already give you chances of winning. Getting three or more sevens can give you an easy win.
Scatter Symbol – The scatter symbol allows you to get free the free spins round. Getting three of the scatter symbols can give you double winnings. Getting all scatter symbols on your designated payline can let you get a whopping x1112 multiplier on your bet. Free spins mode also unlocks the game logo as a special symbol which can help you get a multiplier of up to x15 when you win with every spin.
---
How Does It Look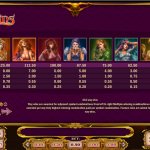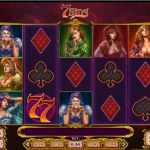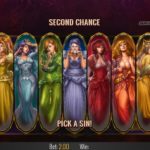 The Bottom Line
7 Sins isn't that deadly as it will still promote proper gambling for every player who wishes to play this game. The game will just allure you towards the rewards that they can offer, especially that jackpot once you hit all five scatter symbols on the reel. So what are you waiting for? A chance to take a peek on the sins is what you just need o get the challenge of winning!
Something different? Well you should consider playing Ace Of Spades a 3 reel slot by Play'N Go.
To play the live version of the game go to one of the following casinos: