Alkemor's Tower | Slot Game Review
The Vitals
In More Words
Alkemor's Tower will take you into a magical adventure towards your riches as you visit the tower of the Great Wizard Alkemor. This is based on medieval wizards and is turned into a 3D slots game in order to give you a more exciting way to win prizes. Take note that there are special features in this game to watch out for.
Alkemor's Tower is set on the tower of the wizard – where you will be able to see the wizard bet with you on the left side of the game screen. The slot machine is placed on the stairway of his tower at the main hall – where the reels are adorned with carved stones. Even the reels look nice. The game contains various items that a wizard – which serve as symbols of the game. Even Alkemor is present as a symbol in the game.
So if you want to see the magic of this Great Wizard, you just have to place your bets before hitting the spin button. You can also go for autoplay and bet max spins if you want to bet quicker as well.
Bonus Features
Elemental Spells
There are 4 types of elemental spells in the game – air, fire, earth and water. These can be accessed by combining spell books on reels 1 and 2 with an elemental symbol based on the four mentioned elements on reel 3. The elemental symbol will determine the feature that will be shown once you complete the said symbols. A spell book on reels 4 and 5 increases the power of the spell.
Here are the following elements:
Water – This causes a wave of water to splash on the reels to make all elements and spell book symbols on reels 2 to 5 to become wilds.
Earth – This will cause an earthquake on the ground in as Alkemor summons meteors. This causes all spell books on reels 2 to 5 to become wild. The earthquake also cascades the other symbols for other symbols to fall down and create new combinations. Previous winnings before the cascade are already counted before counting the cascaded winnings.
Air – A tornado storms up the reels to make all elements and spell books on reels 2 to 5 to become wild. Other symbols will be blown off – scrambling them on different positions. All winnings before shifting the symbol's positions are already counted.
Fire – A fireball will land on the reels to make all elements and spell books in reels 2 to 5 to become wild. But spell book on reel 1 will become a new random symbol and more wild symbols will be added like a wildfire.
Nature Floor
Landing on 2 spell books with a third book that's wrapped in vines will take you to the free spins round. You can get up to 15 spins here. This also takes you to the Nature Floor where you can earn a vine symbol anywhere on reel 3 in order devour other symbols on the reel. The eaten symbols become rewards.
Celestial Floor
Land on 2 spell books and a sun-like banner in order to access this feature. This also gives you up to 15 free spins and where you can get a black hole symbol. The symbol can be landed anywhere on reels 2 and 4 so then it can devour the rest of the symbols on the reels. The eaten symbols also become rewards like the Nature Floor.
Gamble Up
This feature can be accessed anytime you win a prize. You will enter a heads or tails game. Guess it right to double your winnings. Losing will lose your winnings like magic. So watch out!
---
How Does It Look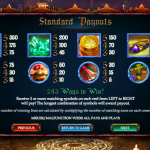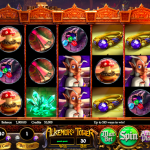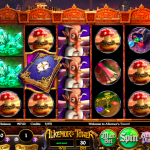 The Bottom Line
Alkemor's Tower is a game that's guaranteed to be magical as it will award you with a lot of surprises as seen on the different bonus features and bonus rounds that it can take you. It may have a low jackpot prize, but Alkemor will assure you that it's not the jackpot prize that's enticing in this game. It's actually the features that are very easy to access – which makes the game an epic journey for you to enjoy.
If on the other hand blackjack is your game of choice you should consider playing European Blackjack by BetSoft.
To play the real version of the game try playing in one of the following BetSoft casinos: