All Aces Poker | Slot Game Review
The Vitals
In More Words
All Aces Poker is a variation of an already existing and very popular game poker, developed by Microgaming. We have four combinations of four of a kind here and it is only one of the many appealing features in this game. This game is actually an adaptation of the most popular poker game Jacks or Better. The sound effects are authentic and they only complement the game. The design of the game is really nice where we can see everything in front of us. The pay table and the cards are easy to read which is a big plus.
May the flop be with you
The game is played with a 52 card standard deck and the cards are shuffled before each deal. The interface of the game is very straightforward so you will find it very easy to use. All Aces Poker has only one special feature and that is double or nothing. After every win the double option is presented to you. If in case you choose the option, the game will deal five cards and reveal one. Then you have to pick one of the 'face down' cards and if the value of the card you chose is higher than the one which is showing, you will double your win. But in case the value is lower than you lose all.
---
How Does It Look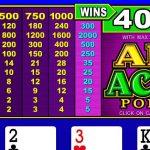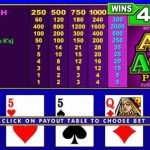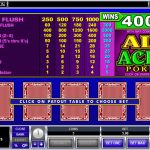 The Bottom Line
All Aces Poker is among one of the best poker variations out there and thanks to Microgaming we have the chance to try this game out. It is fun and fast paced, you just need luck on your side and you are good to go. But before you start playing the game we advise you to check some strategies and at least learn the basics of the game.
Simply play and realize for yourself at SlotsMillion and get you coupon!
If on the other hand roulette is your game then consider playing French Roulette by MicroGaming.