Baccarat Professional Series (Low Limit) | Game Review
The Vitals
In More Words
Baccarat Professional Series (Low Limit) is a game from NetEnt that brings us a very complete online experience of the popular game. The design of the game is very neat and minimalistic. The table is very realistic so for a moment you have a feeling that you are playing in a real land based casino somewhere in Las Vegas.
What makes Baccarat Professional Series (Low Limit) so special is the fact that you can play the game with low bet amounts. This is perfect for beginners and for low rollers who like to stretch their bank roll and enjoy the game for a longer period. Baccarat is a game of chance where you need to have a hand that is closer in value to 9. The game is played with eight 52 playing card decks. Initially you and the banker will receive 2 cards and depending on those cards it is possible to receive a third card as well. You can bet on both your hand and the banker hand. Also you can bet on a tie, meaning both hands will have the same value of cards. So, you can place your bet on Tie, Banker or Player and the player whose cards are closest to 9 is the winner.
---
How Does It Look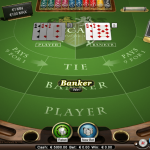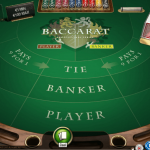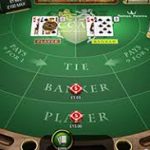 The Bottom Line
Baccarat Professional Series (Low Limit) is the perfect start for every beginner. We need to thank NetEnt, one of the best providers who always come up with games that are perfect in any way possible. This seems like a fairly easy game to play and it all depends on your luck, but still we would advise you to play it for awhile in demo version before you start playing for real money. That is just to get the feeling of how the things work in this game.
For another all times favorite and a multi hand version as well try playing Joker Wild MH by NetEnt.
To play the live version of the game go to one of the following casinos: