Baccarat | Slot Game Review
The Vitals
In More Words
The first thing we noticed about Real Time Gaming's version of Baccarat is the ease of play. Too many software developers make the game too complex for the online environment, so this particular version is a breath of fresh air. While we admit that the graphics may be a bit outdated given the modern design capabilities available today, the game itself is functional and plays well.
You will not find any bells and whistles with this game of baccarat, with the designers obviously focusing on function over any type of 'wow' factor. The approach by RTG is for players to be able to focus on the game, without worrying about distracting features such as side bets. The player gets to decide which hand they will bet on. There are three choices: 1) the banker; 2) a tie; 3) the player. Alternatively, you can actually place any size bet on all three, up to the maximum allowed. Do note that you are likely to eventually lose if you only bet on the player and the banker. With chip values from 1 to 500, you simply pick the coin denomination you wish to place for each bet and then play commences.
Bonus Features
No.
---
How Does It Look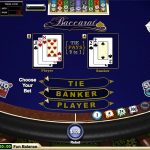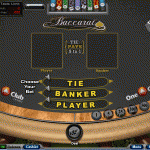 The Bottom Line
As a table game, baccarat has become the most popular in the RTG lineup. They have employed a tie bet ratio of 9 to 1, as opposed to the standard 8 to 1. They also use six decks of cards. The banker bet wins will be rounded down to the nearest quarter, so we find that it is best to place wagers in $5 increments. For this version by RTG, the house edge is set at the following: 1) 1.24% for the player; 2) 1.06% for the banker; and 3) 4.94% for a tie.
If on the other hand you prefer to play slots then you should consider playing Aztec's Treasure a 5 reel slot by RTG.
To play the live version of the game go to one of the following casinos: