Barbary Coast | Slot Game Review
The Vitals
In More Words
Barbary Coast is a game that's meant to be played for people who just like pirates. This epic journey will get you sailing to the high seas as you search for the treasures that can be found in this slots game. This game is also heavily themed after the Pirates of the Caribbean movie series – as seen from the familiar appearance of the characters and the introduction that looks like the movie.
The game is set on the deck of a pirate ship – where there is a cannon and some barrels which represent as the command buttons. This game has ropes for the reel framed and the symbols of the game are filled with pirate-related stuff. There are some guns, pirate crews, captains and even a parrot.
So if you want to sail to this epic adventure that will get you riches like what pirates did back then, then start placing your bets before pressing the spin button. The game also has an auto spion and Max Bet button for you to optimize your betting preferences.
Bonus Features
Parrot Symbol
Getting at least 3 parrots can give you some free spins.
Wild Symbol
The cannon symbol is found at the third reel. Be sure to place it into the center of the reel in order to convert the third reel into a wild reel!
Click Me Dashing Sawyer
This bonus can be accessed when you land on three or more Ben Sawyer Symbols. This grants you some prizes once you click on one of the symbols that you got. This has a high chance to appear.
Black Beard Fight
This bonus round can be acessed once you get three or more Black Beard symbols. This will enter you into a quest to fight Black Beard to save a damsel. Succeeding in this game grants you a heavy prize!
Grog Symbols
Getting 3 Grogs causes you to do a drinking contest against Grog. This requires you to select between heads or tails. Each correct guess gives you a prize. It's basically the same as the gamble up feature, but with drinking and no risks!
---
How Does It Look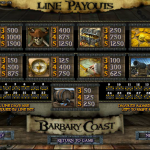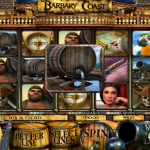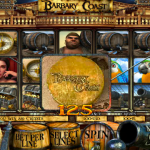 The Bottom Line
Barbary Coast is a game that will take you on an adventure of extra features as the game provides you a huge number of bonuses to enjoy. Take note that most of the bonus symbols mentioned in the game are very easy to access. That's why this game is favorable to many gamblers online.
Something different? Well for one of the cutest and newest games consider playing Birds! a 5 reel slot by BetSoft.
To play the real version of the game try playing in one of the following BetSoft casinos: