Caribbean Hold'Em Poker | Game Review
The Vitals
In More Words
Caribbean Hold'Em Poker is a different version of the Texas Hold'Em Poker. This game by RealTime Gaming has excellent graphics and great audio. This is only to be expected since they are one of the leading online gaming software providers across the globe. In the game, the player and the dealer are dealt with two cards each. Then the flop followed by the 3 community cards which are dealt face up. At this juncture, you can continue to see the next couple of community cards or you can fold.
The goal of the game is to get a better 5-card poker hand compared to the dealer. It is like betting against the dealer and then seeing who has the better hand. If you feel that your hand is better, you can make another bet. This bet will be twice the amount of the ante. If not, you can fold and the hand will be done with. You can use the two cards you received and the five community cards available to create the best 5-card poker hand that is possible.
Bonus Features
Caribbean Hold'em Poker is a progressive jackpot game. The jackpot steadily increases with the result that if you are lucky enough to hit it, you are in for a huge prize. This game can be played at various casinos powered by RTG. The payout of the jackpot depends on the hand you have. The current jackpot amount is displayed on the screen for your reference at all times. To be eligible for the jackpot, you will have to wager $1 as a side bet.
---
How Does It Look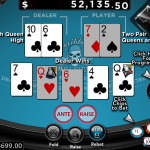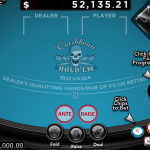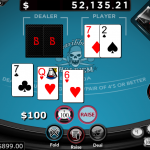 The Bottom Line
This Caribbean Hold'em Poker game is developed by RTG and is quite easy to play, thanks to the simple but attractive interface. The game itself is not very hard to understand. To put it simply, all one needs to do is to beat the dealer's hand in order to secure a win.
For another great and engaging game you should consider playing Bonus Poker Deluxe by RealTime Gaming.
To play the live version of the game go to one of the following casinos: