Caribbean Stud Poker | Slot Game Review
The Vitals
In More Words
Caribbean Stud Poker is a progressive table poker jackpot by Realtime Gaming. The jackpot's value varies between the different casinos. If you are focused on it, you can compare the data before choosing the casino you want to play at. This is one of the poker games available out there which is a simple and straightforward game. All you have to do is to put your five-card hand against the dealer's and there is no need for any intermediate dealings.
First decide how much you want to bet on the ante and on the jackpot if you want. Each player and the dealer get five cards each. One of the cards of the dealer is revealed. With this information, you have to decide if your hand is better than the dealer's. After taking a look at your hand, you can choose to fold or bet double your ante.
Bonus Features
This game contains a jackpot. In order to be eligible, all the players must put $1 in the jackpot before the deal. If you are dealt with the Royal Flush, you will win the full jackpot amount. Don't get your hopes up though, it is a very rare occurrence. A straight flush gets the player 10% of the jackpot. The amount of jackpot to be received by the player depends on the hand they have. The better the hand, the higher the win.
---
How Does It Look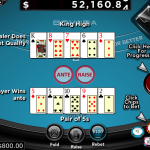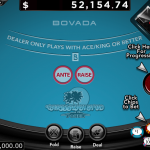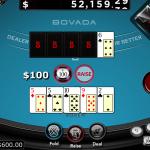 The Bottom Line
It is a highly popular game developed by RTG and is available online and is compatible with all platforms. With a hand of three of a kind or better, the side bets can be won. Though the winning the full jackpot is highly unlikely, the players have a great shot at getting some of the lesser valued jackpot amounts. Do note that the dealer must qualify for his hand to be played.
For another great and engaging game you should consider playing Caribbean Hold'Em Poker by RealTime Gaming.
To play the live version of the game go to one of the following casinos: