Caribbean Stud Professional Series (Low Limit) | Game Review
The Vitals
In More Words
Caribbean Stud Professional Series (Low Limit) is another card game from NetEnt. Just when we thought they have come up with everything they possible could they surprise us with a new game. Besides its exotic name the game is very similar to another game that we are familiar with, five-card stud poker. Once you start playing you will see the usual green poker table in front of you. The stack of cards is in the top right corner, and the dealer's are in the center at the top. In the center at the bottom is your playing area where you can place your bets.
Bonus Features
What makes this game different from other variations is that you play against the dealer, unlike in other games where you play against other players. Before you start playing you need to decide on your wager first. Once you click on the "Deal" button you will receive 5 cards. Every time the first card that is dealt is faced up and the other four are faced down. You need to see your cards and decide whether you have a strong hand or not. If you believe you do you can end the game and then your cards will be compared with dealer's cards.
---
How Does It Look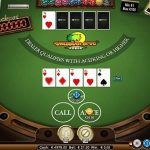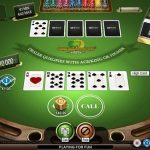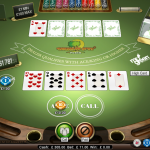 The Bottom Line
Caribbean Stud Professional Series (Low Limit) is one of the best online offerings of this game that comes from NetEnt. Besides the fact that this game has top notch graphics that make the experience more entertaining, this version offers low limit bets. This makes the game great choice for players that are learning how Caribbean Stud works. Let's face it, this is fairly easy game to learn but you still need to learn the basics in order to win. Once you do, you can practice different strategies and see which one works for you.
If on the other hand you prefer roulette games then have a look at this brilliant French Roulette by NetEnt.
To play the live version of the game go to one of the following casinos: