Caribbean Stud Professional Series (Standard Limit) | Game Review
The Vitals
In More Words
Caribbean Stud Professional Series (Standard Limit) is a table game from NetEnt. The professional series turn out to be more efficient and time saving compared to the Caribbean Stud Poker. The design of the game is more modern and the game has more settings that you can adjust to your likes.
Before you start playing Caribbean Stud Professional Series (Standard Limit) you need to get yourself familiarized with the basic rules. In order to win you need to have a better poker hand than the dealer. You both receive 5 cards, where the first card is face up and the 4 cards are face down. Once you see your cads you have to decide whether you will Fold or Call. What makes this game so special is the fact that it offers progressive jackpot. The jackpot can be won when you place a bonus bet after you have placed your Ante. In order to win this jackpot you do not have to be professional player. The moment you get a Royal Flush the jackpot is yours. Another set of cards that can bring you 2500:1 win is when you get Straight Flush.
---
How Does It Look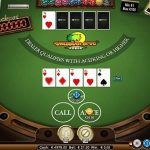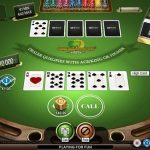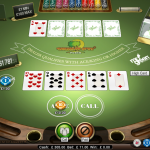 The Bottom Line
Caribbean Stud Professional Series (Standard Limit) is a game from NetEnt that offers a great gaming experience. The game has more sophisticated look compared to other games and what we appreciate here is the beautiful design too. The game has a very realistic look, so while you are playing, for a moment you have a feeling that you are playing in a land base casino somewhere in Las Vegas or Monte Carlo. The game itself may seem like it is easy to play, we would advise you to learn the basics before you start playing for real money. Or in case you are a beginner you can start with the low limit version and work your way to the standard limit version.
If you like to try the Low Limit version of this game just click here.
To play the live version of the game go to one of the following casinos: