Desert Drag | Slot Game Review
The Vitals
In More Words
If you want to zoom your way towards riches, then Desert Drag may be the perfect game for you. This 5-reel slots game by Booming Games contains 9 paylines, and is themed after desert racing. It's made like so in order to make players experience the thrill as they gain for higher bets instead of higher speeds. This adds rush to the thrill of winning a lot of cash, especially when you win the jackpot.
Desert Drag is a slots game that has the background of the desert in order for the game to appear like it's set in a desert. There are also figures of race-cars which are often used as vehicles for desert racing. The game's slot reels have asphalt as its background to make it appear like a racetrack. Some of the symbols in the game appear like road signs, while others are actual road signs.
So if you want to take the pedal to the metal, start driving the road of reels by pressing the steering wheel-like button at the bottom-center of the screen. Other buttons can set up your bets (which include bet max and autoplay buttons) so then you can drive comfortably like how you set up your vehicle.
Bonus Features
Scatter Symbol – Scatter symbol doesn't have free spins in this game. But they make it up by giving away multipliers for your winnings whenever you land two or more of them. Let's just say that you can get up to 100x multiplier when you get all five scatter symbols.
 Wild Symbol – The wild symbol replaces all of the symbols except the scatter symbol in order to form combos easier. This is excellent if you land on these icons more often.
Permanent Two-Way Paylines – Since the rules of the road always involve two lanes on wide roads at most times, this game also followed that feature as a bonus for your paylines. That means you have the advantage of getting double winnings all the time! No need for any scatter symbol to be formed.
---
How Does It Look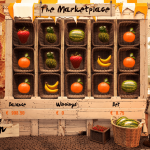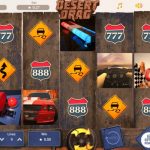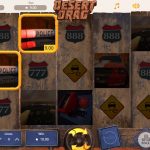 The Bottom Line
This game may not contain the free spins feature, but taking note of the permanent two-way payline feature of Desert Drag makes you feel like you can get luckier in this game. All you need to do is to start operating that steering wheel on the screen if you finally want to start wagering at the high desert street.
Something different? Well if you like oceanic adventures you should consider playing Dolphin's Luck a 5 reel slot by Booming Games.
To play the live version of the game go to one of the following casinos: