Double Double Jackpot Poker – 1 Hand | Game Review
The Vitals
In More Words
Double Double Jackpot Poker is a fun game by RealTime Gaming that is based on Jacks or Better. There are plenty of winning opportunities. The pay table rankings include Four of a Kind hands – 4 Aces with a Face card – 4 aces, – 4 Kings, Queens, or Jacks with A, K, Q or J – or 4 K, Q, or J without an Ace or Face card. The other payouts are the standard ones which pay less because of the potential increase in the wins.
It is a 100 hand multi-coin variant poker game. The hands are dealt in the center of the game screen while the payouts are calculated and displayed on the left side. The least paying hand is Jacks or Better while the highest paying is the Royal Flush. The unique feature about this game is the variety of four of a kind hands that can be created according to the fifth card. The game has options to control the card speed and volume of the sound among others.
Bonus Features
There is no bonus stage in this game. The player starts by selecting the coin denomination. One can choose from 0.01, 0.05, 0.25, 0.50, and 1.00. Then the player has to decide the number of coins wagered per hand. This can be done by clicking on the "Bet One" button the required number of times. You must make sure that there is sufficient balance to ensure your wagers. If there is not, you will have to add extra credits before you place the next wager.
---
How Does It Look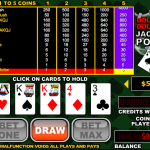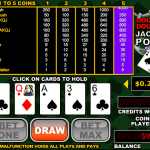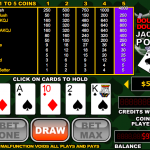 The Bottom Line
Double Double Jackpot Poker is played in a normal manner. The rules are explained clearly. This game was developed by RTG and has become a favorite soon among the players because of the interesting features in the game and the high payout rates.
For another great and engaging game you should consider playing Double Double Bonus Poker by RealTime Gaming.
To play the live version of the game go to one of the following casinos: