Double Jackpot Poker – 1 Hand | Game Review
The Vitals
In More Words
Double Jackpot Poker is a fun game by RealTime Gaming. The hands that pay well in this game are the Four of a Kind hands, such as 4 Aces with K, Q, J – 4 Aces – 4 Ks, Qs, Js with Ace, K, Q or J – 4 Kings, Queens or Jack – and Four of a Kind 2-10. The game starts with a five-card hand. Select the best cards and hold, and discard the others. When you click on Draw, you will get new cards. If you have at least pair of Jacks, you win. Anything lesser, and you lose. The number of winnings depends on the value of the hand and the number of coins you have wagered. The higher the hand and the number of coins you wagered, the higher the payout.
Those who are new to poker will have trouble understanding the importance of each hand. They are ranked in the following order, starting from the least to the highest:
Pair of jacks or higher, 2 pairs, 3 of a kind, Straight, Flush, Full House, 5 different types of 4 of a kind, Straight Flush, and Royal Flush.
Bonus Features
There is no bonus game though you can win 4000 coins in winnings if you get a Royal Flush. It is can be achieved only when playing with 5 coins. It is the highest you can hope for. The hands are evaluated based on the pay table that you will see on the side of the screen. The cards are usually from a single deck and they are reshuffled before each hand.
---
How Does It Look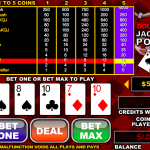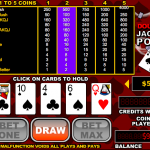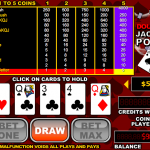 The Bottom Line
Double Jackpot Poker is a great game if you want to pass away the time or make some serious bucks. No matter what, it is a game that is fun to play. The simple rule of the game is that one must have at least a pair of Jacks in order to secure a win.
For another great and engaging game you should consider playing Double Double Jackpot Poker by RealTime Gaming.
To play the live version of the game go to one of the following casinos: