Double Joker | Slot Game Review
The Vitals
In More Words
Double Joker is a variant of the Joker Poker game – another variant of a slot game. The difference in Double Joker is that there are two Wild Joker cards placed in the deck. This will grant you 54 cards all-in-all during the game – increasing the odds of winning. The pay table also changed as the Kings or Better combination is removed while the payout for certain combinations is reduced. You can compare between Joker Poker and Double Joker to see the major difference.
The game is just the same as Joker Poker where you can hold between one to five cards while seeing if the resulting card combinations can give you winnings. You can also bet from a multiplier or one to five as well before hitting the DEAL button. This game is guaranteed for those who are seeking more challenges from video poker games.
Bonus Features
The game has the "Double Up" feature as well. This prompts you to select one of the hidden cards after the computer picks a "dealer card". This bonus feature gives you the chance to win twice the amount of your winnings if you manage to beat the dealer's card with a higher value. This is just an optional feature if you want to go "Double Up" or if you just want to move on to the next set of cards.
---
How Does It Look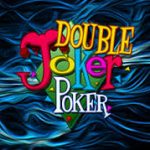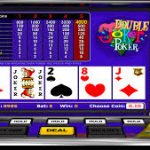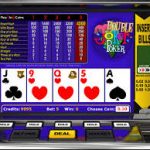 The Bottom Line
Double Joker is recommended for those who are seeking a thrill from a video poker game. So if you're already knowledgeable on how video poker games work, for sure this game will bring in more excitement as well!
If on the other hand Poker is your thing then you should consider playing Jacks Or Better a 5 card game by BetSoft.
To play the real version of the game try playing in one of the following BetSoft casinos: