Jacks Or Better | Slot Game Review
The Vitals
In More Words
Jacks or Better is the most popular variant of the video poker games by BetSoft. This game is named because you need to get the minimum payout of a pair of Jacks or any other combination that's better than that. This game is composed of the traditional poker combinations but with a twist where you need to bet one to five and see if you can get winning combinations in order to win a high amount of money.
The game has the simple mechanic where you need to choose between multipliers 1 to 5 for your winning once you bet. Once you press the DEAL button, you will have the option to hold one or all of the five card values that will be displayed. The cards you held will determine your winnings as the winning combinations appear or the machine calculates your five cards once you press the DEAL button once again.
The game is extremely addictive for all poker lovers out there as this video poker game can make you stay away from the poker competitions for a while so then you can focus on getting lucky first.
Bonus Features
The game has a "Double Up" feature. This feature lets you pick a card once again. But this time, the software's dealer picks their own card from the selection. This leaves you picking one of the four remaining cards. This can double your winnings if you get a higher value than the dealer's card. You can only do this if the software asks you to go "Double Up" and if you prompt to do so.
---
How Does It Look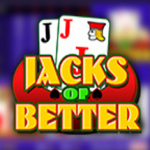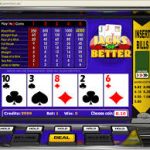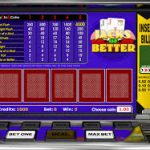 The Bottom Line
Jacks or Better is a very famous game that's considered as highly addictive for many online casinos players around the world. The game is very simple and can guarantee you winnings that's as fast as the results in slots. All you just need to do is to study poker a bit for you to get a grasp of the game's mechanics. So good luck out there in getting Jacks or better!
If on the other hand Poker is your thing then you should consider playing Joker Poker a 5 cards game by Betsoft.
To play the real version of the game try playing in one of the following BetSoft casinos: