Draw Hi-Lo | Slot Game Review
The Vitals
In More Words
Playing a simple card game could be enough to some players who just want to see if they can increase their money by wagering. Draw High Low is a card game made by Real Time Gaming to provide you an action-packed experience where the thrill relies on the next card – which is the card that you will beat. This game has a very simple mechanic that even non-gamblers will find amusing if they just want to spend a bit in playing card games just like in a casino.
The game is set on a card dealing table just like in poker and blackjack games. The game will make you choose an amount depending on your overall balance so then you can place your bets. You can bet on various amounts depending on the available chips in the game – wherein 500 chips are the highest amount available. Once you're done, you will be given one card. You need to choose if the next card is higher or lower. This is the part where you need to have correct guessing abilities in order to see if you will really win or not. Once you made up your mind, the dealer will show the next card to see if you got it right. Keep on repeating this game with correct guests in order to win definitely big!
Take note that you have the choice to cash out your money if you want to start all over as the game will take all your earned money away if you lose and you didn't cash out. Take note that the winnings that you can get in this game is 10 is to 1 – a very big reward indeed. That's why you have to choose carefully between the lower, higher and cashout buttons during the game so then you can safely keep your winnings with you before you leave the game.
Bonus Features
No.
---
How Does It Look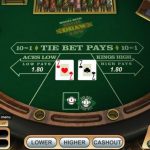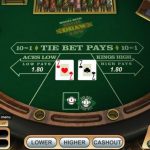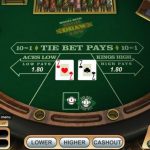 The Bottom Line
Draw High Low is a game that entirely depends on your guessing skills. It's like the double up feature in most slot and other casino games – with the same risk of getting zero if you didn't cash out before you lost. So be sure to decide well whether to play this game or not because this contains a lot of thrill despite its very easy and plain mechanics.
For a charming fantasy slots game you should consider playing Enchanted a 5 reel slot by BetSoft.
To play the real version of the game try playing in one of the following BetSoft casinos: