Enchanted | Slot Game Review
The Vitals
In More Words
If you want to travel, then make sure that it's a magical place if you're going to digitally travel in some wild place. If you're gambling, and you want some adventure, Enchanted is the perfect game for you. This is a 5-reel slot game that contains 30 paylines that's themed after a magical fores that's filled with fairies and trolls. Some other magical creatures of the forest are also added in this fairy tale-like slot machine game.
The game is set on a magical forest – hence the title. The game already contains magical creatures such as fairies, trolls, wizards and even monster slimes. These serve as the symbols of the game, along with other magical items such as magic bangles and keys that may unlock something mysterious. The entire game is filled with wood as seen on the frames of the game as well.
So if you want to take this epic journey, start placing your bets per payline before hitting the spin button. You can also go for autoplay and bet max buttons for you to have a quicker way to gamble as well.
Bonus Features
Golden Keys
Take three Golden Keys by landing them on reel 5 in order to open the Tonk's Tinkering Door bonus. This feature will keep track of the keys that you got and will give you bonuses once you receive the third key – as they keys can only be landed on reel 5. These will give you access to choose three locks in order to unlock the prizes that await you.
Crazy Hats
Get two of these crazy hat symbols anywhere on the slots in order to activate Crazy Hat's Crazy Reels bonus. This will give you an added chance to win by giving three free spins.
The Spellbook
The Ultimate Spellbook free spins feature can be activated upon getting three or more spellbook symbols at random. These will give you a number of free spins that can help you get more chances of winning. The title of the game will become a symbol during free spins – which can greatly increase your winnings once you land it on reels 2 and 3.
Feera and Rufus
If you land these two icons next to each other, another bonus game is triggered. You just need to find Feera's bird that Rufus stole. You need to place a spell on Rufus to get the bird and for you to attack him. Three successful attacks can free the bird to give you amazing bonuses to enjoy.
---
How Does It Look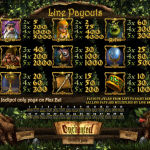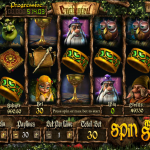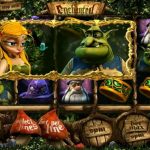 The Bottom Line
Enchanted may not have wilds or scatters, but they made it up by giving a lot of bonus rounds that will definitely keep you lost inside this enchanted forest for hours or until the game prompts you to stop. This is a game that's truly enjoyable as the chances to win are high as seen from the bonus features that it contains. It will truly raise your money like magic once you enter in this forest.
If on the other hand blackjack is your game of choice you should consider playing European Blackjack by BetSoft.
To play the real version of the game try playing in one of the following BetSoft casinos: