European Blackjack | Game Review
The Vitals
In More Words
Blackjack is counted among the most played and the most popular games available online today. There are various variations of Blackjack available and European Blackjack is one of them. This game by RealTime Gaming (RTG) is trusted by all the players because the company is known for it reputed software and games. The game has excellent sound and audios, stunning graphics, a decent enough game speed, and several other nice features.
The rules are not widely different between the European and American version of Blackjack, though you will spot a few key changes. It is important to decide which version you are going to play and choose the game and the casino accordingly. In a usual Blackjack game, the dealer gets one card face down and another facing up and the player is dealt 2 cards facing up. The dealer card which is facing down is known as the hole card.
In European blackjack, the dealer's hole card is not given until the player chooses to hit or stand, split, or double down. This is one of the key differences between the other variants and the European Blackjack.
Bonus Features
There are no specific bonus games here. By making a careful study of the rules and understanding various strategies that you can use, you will have a decent chance at making a profit. However, you also have to understand the limitations here. When you get a chance to double down, you will have to comply with betting limitations.
---
How Does It Look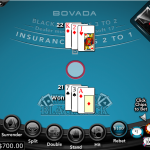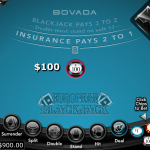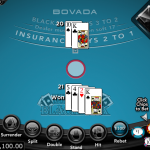 The Bottom Line
European Blackjack is available in many online casinos powered by RTG. If you are just learning the game, you can play with virtual money till you get the hang of it. The graphics are not bad though it could certainly be made better. The rules are clearly mentioned in the game window and you will not lose money while you are learning!
For another great and engaging game you should consider playing Double Jackpot Poker by RealTime Gaming.
To play the live version of the game go to one of the following casinos: