Flaming Dragon | Slot Game Review
The Vitals
In More Words
Are you up to conquer the dragon to win a lot of cash in this game? Flaming Dragon is an epic game made by Booming Games. It's a game that's heavily themed after an ancient era with dragons along with it. The dragon will surely spit fire to whoever tries to make an attempt in getting the jackpot. But with enough luck, you can beat it to win a lot of coins.
Flaming Dragon's plot is set on a medieval castle. The frame and symbols of the game are well-designed – making it almost like a medieval game's mini-game of slots. The game also contains a lot of magical graphics that seem to be almost realistic to the eye of some. The music also makes the game much more epic.
Bonus Features
Gamble Mode – This mode will definitely test your luck as Flaming Dragon will invite you to double up your winnings once you score a combo. This is an all-or-nothing mini-game wherein you need to guess correctly in order to double-up your winnings. Attempting to go for another can quadruple your winnings. But losing will result in zero winnings – just like how a dragon can burn something!
---
How Does It Look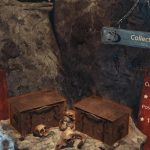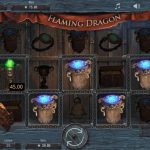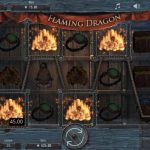 The Bottom Line
Flaming Dragon may be a medieval-type game with dragons just like some Eastern-themed slot games, but expect easier ways to win in this game. The graphics are awesome, which is also a compensation for its lack of bonus features. So if you want fancy graphics for a slots game then this one is for you!
Something different? Well you should consider playing Galactic Speedway a 4 reel slot by Booming Games.