Food Fight | Slot Game Review
The Vitals
In More Words
Food Fight is a 5 reel video slot with 9 pay lines. It was developed by RealTime Gaming. The game offers a 4,000 credit jackpot along with fun and lucrative bonus games. Though it is not up to mark when you compare it with the slots of today, it does have a certain appeal. The maximum bet is 45 coins.
The game is based on, as the name suggests, a food fight. The symbols depict all kinds of yummy dishes, including sweet desserts! Had the graphics been better, you would have started drooling right at the beginning. However, they are simple two-dimensional cartoons and hence, not very realistic or drool-worthy. On the brighter side, the game is fun, charming, and colorful.
Bonus Features
Food Fight has two bonus games. Both of them are activated by players who find the scattered ingredients to make a creampie or an ice cream. It certainly is an interesting concept. If you get a scoop of ice cream, a cone, and a cherry symbol in the reels at the same time, you will trigger the Ice Cream Scatter Bonus where you can earn as much as 405 coins. The other is the Food Fight Bonus round where the player has to throw pies at the five symbols. Each hit will earn your prizes.
The payouts do not make a lot of sense, though. Those playing with 2 coins will get 500 coins in prize when 4 pasta symbols appear. However, those playing with 3 coins will only get 50 coins for the same set. In spite of all this confusion, the players can expect to win many prizes, from as tiny as 2 coins to as big as 4000 coins. The maximum jackpot is won when one gets 5 pudding symbols in a row.
---
How Does It Look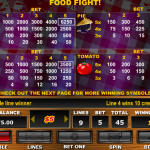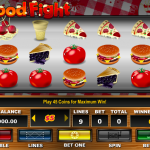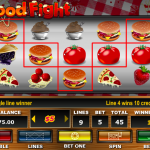 The Bottom Line
It sure is an entertaining game with its inventive ways of triggering the bonus games and the game itself is fun. This game by RTG speaks volumes about the company's commitment to creating excellent slots.
For another great and engaging game you should consider playing European Roulette by RealTime Gaming.
To play the live version of the game go to one of the following casinos: