Genie's Fortune | Slot Game Review
The Vitals
In More Words
If you're fond of the Aladdin tales and movies, Genies Fortune is just perfect for you. This 5-reel slot game contains 30 paylines and is set in the world of Aladdin. That means you get to see him as the main character as he makes YOUR wishes come true this time – not his. So join him and genie, monkey and magic carpet to experience the riches of an Arabian prince.
The game is set in a treasure room as seen on the background. An adorned slot machine lies in front of you – with each reel framed with metal and plates of gold. Symbols contain different stuff found in the Aladdin stories such as camels on a desert, fruits in a royal palace, a sexy female dancer, a friend monkey, genie lamps and flying carpets.
To make your dreams of riches come true, all you need to do is to set your bets or go for the max bet right away. You can press the spin button after making some bets and setting your desired paylines. So wish that you're going to win in this game!
Bonus Features
Wild Symbol
The flying carpets serve as the wild symbol. Get 5 of them give you huge winnings that will make you feel like flying. They can also substitute for other symbols to land combos easier. Land this on reel 1 and you will see an amazing surprise as it flies and gives you 4 bonus payouts.
Scatter Symbol
The treasure chests serve as scatter symbol. Land these anywhere on the reels to get free spins. You can get up to free spins the more you get treasure chests on the slot machine.
Click Me
The monkey that looks like Abu in the Aladdin films can grant you a nice bonus once you land him on reel 3. You can click on the monkey's adjacent symbols to get a bonus prize.
Genie Bonus
The lamp symbol is the best bonus of the game. Get three of these and click one of them to give you 6 possible wishes: long life, travel, wisdom, love, wealth and fame. These choice contain mysterious prizes that's very exciting!
---
How Does It Look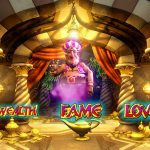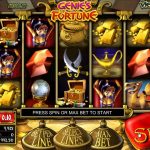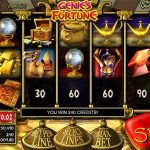 The Bottom Line
Genie's Fortune is a game that will surely make your wishes in this money-driven world to become true. The bonuses are just enough to keep you excited if you don't want a game that contains too much bonus features. Rest assured that the game has enough bonuses and a decent paytable that will get your thrilled!
If on the other hand you prefer an adventure during pre-historic times then consider playing 2 Million BC a 5 reel slot by BetSoft.
To play the real version of the game try playing in one of the following BetSoft casinos: