Jacks Or Better – 3 Hand | Game Review
The Vitals
In More Words
Joker Poker is a video poker game by RealTime Gaming. It comes in many variants. Joker Poker with three hands is one such variant. The game uses 5 cards. The payouts are on a pair of Jacks or Better, 2 pairs, 3 of a kind, straight, flush, full house, four of a kind, straight flush and Royal Flush. A deck of 52 cards in used and it is reshuffled every hand.
It has a very lucrative paytable and one of the richest one. A Sequential Royal pays about 10,000 coins on a 5-coin bet. A Royal Flush pays about 4,000 coins on 5 coins which is similar to other games. Unfortunately, the Royal with a Joker pays only about 400 coins. On the other hand, a Royal Flush on 1 coin will get you only about 250 coins.
You can bet anywhere between 1 to 5 coins. The coin sizes are 1¢, 5¢, 25¢, 50¢, and $1.
Bonus Features
There is no bonus stage here in this game of video poker. A three-hand grid is used in this variant of the Jacks or Better game. You will be dealt 5 cards facing up. The bottom hand shows the starting hands. You can choose to discard or hold as many cards as you want in order to create the highest paying combination.
Every hand uses a different 52 deck of cards. Each hand also consists of the same help cards as the bottom hand. You can draw to be dealt the remaining cards from each of the decks. The highest combination is paid on each hand. There is a big jackpot which you can qualify for if you place a 5 coin bet.
---
How Does It Look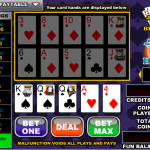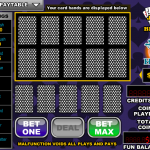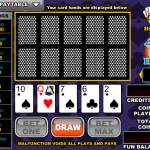 The Bottom Line
Jacks or Better is a fun-filled game which is perfect for both beginners and the experienced. This game is developed by RTG and hence, it is bound to good enough although the presentation could use some work.
For another great and engaging game you should consider playing Jacks Or Better – 10 Hand by RealTime Gaming.
To play the live version of the game go to one of the following casinos: