Joker Poker – 1 Hand | Game Review
The Vitals
In More Words
Joker Poker is a video poker game developed by Real Time Gaming. The Royal Flush and the five-of-a-kind will give higher payouts just for having a Joker. The payout table is similar to Kings or Better. The coin size ranges between $.05 and $5.00. The minimum bet is $0.05 while the highest is $25.
In order to win the 20,000 coin bonus, you will need a Royal Flush-10, Jack, Queen, King, Ace in the order from left to right.
Bonus Features
There is no bonus stage in this game. The game is played with a 53 deck card which includes a Joker. The Joker works as a Wild card which means it can replace any card and help complete a winning hand.
Joker Poker is played with a 53 card deck including the Joker. The Joker is wild and stands in for cards of any denomination and suit to complete a winning hand. The payout combination starts with Kings or Better. Some of the possible winning hands are Natural Royal Flush, Joker Royal Flush, Five of a Kind, Straight Flush, Four of a Kind, Full House, Flush, Straight, Three of a Kind, Two Pairs, and Kings or Better.
If you have been dealt a royal flush, five of a kind, four of a kind, straight flush, full house, flush, or straight, then you should hold all. This could be with or without a joker. If not, try to make the best from the cards you have.
You will have different priority combinations when you have a joker and when you don't have a joker. Understand the strategy and play your best.
---
How Does It Look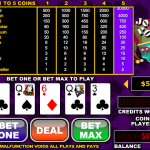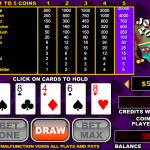 The Bottom Line
Joker Poker – 1 hand is an interesting game by Real Time Gaming. It is simple enough once you have got the hang of it and it is widely popular.
For another great and engaging game you should consider playing Joker Poker – 10 Hand by RealTime Gaming.
To play the live version of the game go to one of the following casinos: