JokerPoker – 3 Hand | Game Review
The Vitals
In More Words
Joker Poker is a video poker game created by RealTime Gaming. There are many variants of Joker Poker and the one with three hands is one of them. This game also has the highest and most lucrative pay table in any of the poker games in RTG. A Royal Flush can get you 4,000 coins which is available in other poker games as well. But Sequential Royal offers a payout of 10,000 coins with a 5-coin bet.
The minimum qualifying hand is Kings or Better. Disappointingly, a Royal consisting of a Joker gets only 400 coins. However, it is an easy enough payout to achieve with the 53-card deck. There is also a big jackpot where, in order to qualify, you need a 5-coin bet. The available coin size starts from a penny and goes on up till $1.
Bonus Features
There is no bonus stage available in this game. This is Joker Poker with three hands. This means one joker is present in every deck. It is also the wild card. You will be dealt 5 cards, all face up. You can discard or hold as you like to create a winning combination. The Joker can be used to replace any card to complete your winning combination. The Payouts will be on Kings or better, two pairs, three of a kind, straight, flush, full house, four of a kind, straight flush, Joker Royal Flush, 5 of a kind, Natural Royal Flush.
There is also a Sequential Natural Royal Flush in this game. This means that if you are dealt 10, J, Q, K, A in order, you will win the 20,000 coins bet. This can happen only when you are betting with the maximum amount. The deck is reshuffled every hand. The best payout is when you are playing with the max bet.
---
How Does It Look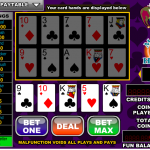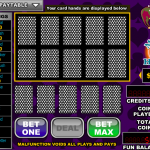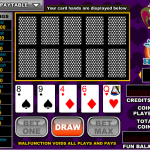 The Bottom Line
Joker Poker's 3 hand variant is a fun game. It also follows the same rules as the other variants. If you are comfortable with the other versions, you are likely to love this game.
For another great and engaging game you should consider playing Joker Poker – 1 Hand by RealTime Gaming.
To play the live version of the game go to one of the following casinos: