Mad Scientist | Slot Game Review
The Vitals
In More Words
Science will never get boring if you're a scientist who's passionate with the wonders of it. But some say that it's funner if you're mad. That's what the game Mad Scientist wants to show to you in the form of a slot machine game. This 5-reel slots with 20 paylines is known to be one of the finest games by Bet Soft that will surely get you mad enough with winning.
Mad Scientist is a game that will keep you experimenting for different combinations. The game's reel framed appears to be a machinery that's usually built by mad scientists in cartoons and other shows. The symbols of the game are based on different items found in a scientist's lab such as chemical flasks and gigawatt meters. Other science-themed symbols include atoms and hazard symbols.
This is a game that will surely get you mixing different symbols like how a scientist concocts chemicals together! So go ahead and press the spin button after placing your bets or go all out by choosing the max bet spin that can also be adjusted according to your desired bet and amount of spins.
Bonus Features
Wild Symbol – The chalk board is the wild symbol of the game. This can substitute all of the other symbols except for the scatter and bonus game symbols. The substitution feature of the wild symbol allows easier combos to be made.
Scatter Symbol – The switch is the scatter symbol of the game. This gives you free spins and multipliers so then you can have a better chance to win bigger with less risks involved when it comes to your bets. You can get more free spins by getting more switch symbols.
The Great Experiment – This bonus feature can be activated by getting three or more beakers on your reels. This is where you will see the mad scientist who will drink his very own gold serum. But you need to select 4 among the various objects that he wants you to use for the serum. If the serum becomes either bronze, silver or gold, you will be paid depending on the quality of color you got.
Wild'o'Cution – This is another special feature of the game where symbols can become wilds once the Tesla coil icons come out on the first and last reeks of your payline/s.
Bio Pick Me – This is a bonus that can be activated by getting three or more hazard icons. This can give you 175 credits and your winnings will get multiplied depending on your bet per line. This will surely make you go for max bet just to get this awesome bonus.
---
How Does It Look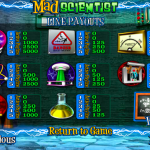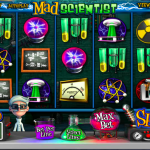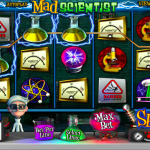 The Bottom Line
Mad Scientist will surely give you the madness of winning once you start playing this game. There are a lot of combinations to experiment on in this game. That's why there are a lot of players who say that this game is the best for those who want to go at bet max all the time as the rewards that you can reap here are very high as well.
If you would like to try sequel version of this game then you should consider playing Madder Scientist a 5 reel slot by BetSoft.
To play the real version of the game try playing in one of the following BetSoft casinos: