Mini Blackjack (Low Limit) | Game Review
The Vitals
In More Words
Mini Blackjack (Low Limit) is a table card game from NetEnt that is the best solution for everyone who likes to play quick and easy game. As its name suggest we have a classic blackjack game but this time in a miniature version. The design of the game is simple yet appealing to the player. They made the game simpler for a reason, you can easily play it on the go or whenever you are in a hurry and you want to play couple of hands. It is simply fascination what NetEnt is doing for their players, always coming up with new and innovative games.
Since this is a mini blackjack, this means that the interface of the game is very simple. The game play control buttons are clearly marked so even if you are a beginner you will get the hang of it. In the lower right corner you can select the appropriate coin in order to find the right bet amount that suits your bankroll. We are certain that you are familiar with the goal of the game, but anyhow we will go through the basic rules one more time. The idea is to get cards with total value closer to 21 than the dealer's hand. If you have a total of 21 with your first 2 cards you immediately have a blackjack and you will be paid 3:2. You have the option of doubling down and splitting in this version of the game too.
---
How Does It Look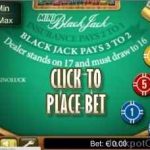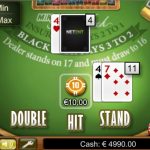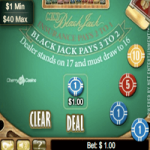 The Bottom Line
What makes Mini Blackjack (Low Limit) from NetEnt a charming game is the fact that is very simple to play and it uses an easy to use interface. The cards are dealt fast so if you are not a beginner, you can play the game very fast without having to wait long.
If you like table game why not try the original Punto Banco game by NetEnt.
To play the live version of the game go to one of the following casinos: