Oasis Poker Professional Series (Standard Limit) | Game Review
The Vitals
In More Words
Oasis Poker Professional Series (Standard Limit) is a game from NetEnt that is a variation of the Caribbean Stud Poker. The design of the game is impeccable. They always use the latest technology and for that reason their games are played and appreciated the most among the players. They have a large list of Professional Series Games and so far they have managed to cover all popular card games. Each of them is different and unique after all that is their specialty, always coming up with new versions better than the previous one.
Since this is a variation of Caribbean Stud Poker and if you are familiar with it then you have no problem playing Oasis Poker. There are some slight differences of course. In Oasis Poker you are allowed to exchange up to 5 cards before you decide to Raise or to Fold. The game does not offer progressive jackpot, but this means that there are higher payouts during the game. It is very easy to play this game. You need to place an ante bet after which you will receive 5 cards. Your cards will be visible but dealer's cards will be all faced down except for the first card. For a certain fee you can exchange up to 5 cards and once this is done the best poker hand wins.
---
How Does It Look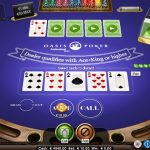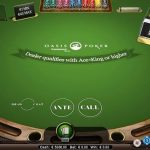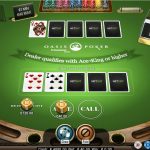 The Bottom Line
Oasis Poker Professional Series (Standard Limit) is a very interesting game coming from NetEnt. There are 3 variations of the game and the standard limit is something in between, which both high rollers and low rollers will appreciate. We would advise you to get familiar with the rules before you start playing this game. At first look the game seems pretty easy to play but in order to win you need to master playing poker first.
If you want something a bit different you can try a good game of Caribbean Stud by NetEnt
To play the live version of the game go to one of the following casinos: