Odysseus | Slot Game Review
The Vitals
In More Words
Get into the world of mythology in this epic video slots game made by BetSoft: Odysseus. Odysseus is a slots game that's themed after the Greek Mythology. It's also a fun slots game that contains a lot of special bonuses for you to enjoy. It also has some special icons that will surely make you feel luckier once you score on some of them.
The slots game is designed in a Greek Mythology theme as seen in the title of the game and its icons. It has a very fun background music that's more peaceful than what Mythology is all about. The game features different Greek Mythology characters and items such as coins, a helmet of a Spartan, a Spartan, pots, harps and even Greek gods.
Bonus Features
The game contains three bonus features for you to enjoy: 
Wild Icon
The game's boat icon contains the wild icon so then you can get multipliers for more chances to win bigger!
A Prayer For Athena
There are times where Odysseus might pray to Athena The Wise in order to give you chances of winning. All you need is to get three Athena statues in the slots. This contains free spins; which come in random amounts of 10, 25 or 100.
A Deck of Cards
This is just like the "Double Up" feature that's present in many video poker games. Odyssues will be the "dealer" this time and you need to beat his card with a higher value. This lets you win double and even quadruple of your winnings if you attempt to do this bonus challenge. Losing this challenge also risks your winnings to become 0! So think wisely.
---
How Does It Look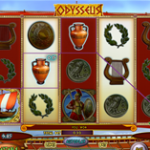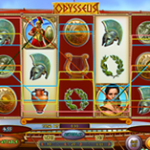 The Bottom Line
Odysseus is actually a fun game because of its awesome Greek Mythology theme, its fun background music, and the very easy chance for you to win in this 5 reel game. So go ahead and get into the world of Odysseus in your favorite online casino site!
For an outer space adventure consider playing Space Lights a 5 reel slot by Betsoft.
To play the live version of the game go to one of the following casinos: