Pay Day | Slot Game Review
The Vitals
In More Words
Pay Day slot was released in 2006 by Wager Gaming. It is a 3 reels, single pay line slot. At the time it was released, it was hugely popular. But unfortunately, it has not managed to roll with the time. Today, a look at this slot will not hold your interest for more than a few minutes. The lack of good graphics and special effects are a glaring drawback. If you want a dose of nostalgia or just want to experience this slot once, you can happily play this slot. There are no bonus features or free spins. However, the players will be happy to know that there is a wild.
Bonus Features
There is no progressive jackpot in Pay Day slot. The logo of the slot works as the wild. With this, you can expect to win the biggest prize offered – 2,500 coins. The small prizes, however, are far more frequent. The wager starts from $0.01 and goes on up till $30. Those who are new to slots or are playing with a limited budget would find it suits them.
The symbols are nothing special, which was only to be expected. Bars, sevens, and the Pay Day logo make up the symbols. Multiplier wilds help in getting the highest payday. Any win which consists of a wild will be doubled while the presence of two wilds will multiply the winnings by four times. Three wilds will award the player with the jackpot worth 2,500 coins.
---
How Does It Look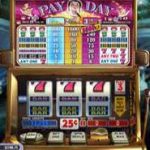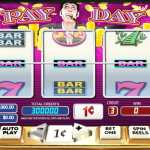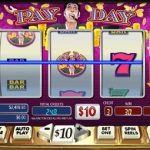 The Bottom Line
Honestly Pay Day isn't too interesting, though the bonus keeps the players hooked. Small prizes every now and then are a good way of making up the shabby backdrop and the gameplay. A game that did quite well in its time has simply not been able to cope with the latest technology and the graphics that work with its counterparts.
If on the other hand you're into video poker then consider playing Tens Or Better by WGS.
To enjoy this game and others from the wide selection of WGS games try the following online casinos: