Pearl Lagoon | Slot Game Review
The Vitals
In More Words
Go swim in the aquatic world of Pearl Lagoon if you want to dive into riches. This game will let you explore the underwater world as the game is themed after the ocean and the beach. Even the font of the game is also set after a beach or ocean-like theme, making it a fun game that makes it look like a kid's game. But real money is still involved here. That's why only adults should play the game despite its fancy theme.
The game features the usual high card values of the typical 5-reel casino game. The game also has 20 paylines which compensate for the low bet range of the game. The game also contains symbols that's themed after the sea. Symbols like clown fishes, crabs and seashells are present in the game's design. These extra symbols have special features that you will learn later on.
So if you want to play the game, just go ahead and start depositing some cash for you to start betting. Take note that an auto spin feature is also present if you just want to watch the reels go on until you either win or drown to your losses.
Bonus Features
These are the bonuses that the game offers:
Wild Symbol
The game features the dolphin as the wild symbol. This can replace all of the symbols in the game so then you can have an increases chance of winning. Getting five dolphin logos makes you win the jackpot prize of 5000 coins!
Scatter
The scatter symbol is the sea shell. This symbol can provide you an increased multiplier that can lead up to x3 your winnings. You can also get up to 60 free spins if you get all 5 scatters in the reels of your designated paylines.
---
How Does It Look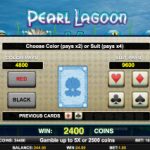 The Bottom Line
Pearl Lagoon will really take you to the treasure trove of riches once you dive deep in it by playing the game. All you need to do is to deposit some cash and access the game in your friendly online casino in order to get this game started. Rest assured that the bonuses are very easy to get despite its simplicity.
For a super engaging adventure from ancient India consider playing Pearls Of India a 5 reel slot by Play'N Go.
To play the live version of the game go to one of the following casinos: