Pentagram | Slot Game Review
The Vitals
In More Words
Pentagram is a video slot game that is all about the magic and the occult. The game was design by Realistic Gaming and can give you some satanic spins for sure. We have the usual classic slot here which uses fruits as its main symbols but the dark color and the extra symbol give a more paranormal vibe to the game.
Bonus Features
There are no special symbols in this game like wild and scatter but we still have something different that can bring some fun to the game play. As you spin the reels you will see parts of the word Pentagram on the symbols, and they are the one that can trigger the bonus feature. You would be surprised to find out that the main feature in this game is the free spins round. Well you did not expect that from a three reel slot, right? The "Pent" symbol is on the first reel, "Pentagram" on the second reel and "Gram" on the third reel. If you manage to land these symbols at the same time you will receive 10 free spins.
---
How Does It Look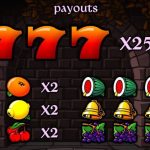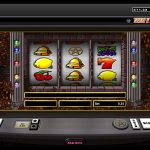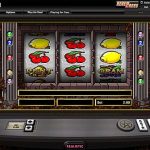 The Bottom Line
Pentagram turns out to be a very interesting game to play. Realistic Gaming made this game from everyone and just to spice the things up they add the occult vibe to it. You do not have to worship Satan or any dark forces to enjoy the game, since we have all the elements we are looking for in an online slot here. The game play is nice and smooth and for a change there is a free spins round. This is probably the main attraction in Pentagram since this is a three reel game. We had so much fun and enjoyed this classic slot, and so we believe that you will too if you give it a chance.
For another great engaging game you should consider playing Over The Rainbow a 3 reel slot by Realistic Games.
To play the live version of the game go to one of the following casinos: