Pinocchio | Slot Game Review
The Vitals
In More Words
Pinocchio will never lie to you in this game if he says that there's lots of money to be won here. This is a 15 payline video slot made possible by Bet Soft. This 5-reel slot game is known to have three worlds with three different scatters. These are Geppetto, Books and a Wagon. These have different functions for each scatter symbol at play. There are also special features that are unique in this game – which might add an extra dose of fun.
The game is themed on the story of Pinocchio. That's why you will get to see the wooden puppet and his creator Geppetto as they take on the journey of their fairy tale by progressing through levels. This can be accomplished by getting the right scatter symbol that's indicated at the slot machine. These symbols can lead you to the next level of you fill up the level bar of whatever sign you got. The other symbols are Pinocchio and Geppetto, along with high card values such as Q and K.
This game will definitely give a whole new adventurous meaning when playing slots. It's like you're somewhat taking on a journey in the world of this wooden puppet. So go and make a bet and press that spin button if you feel like this game is what you need to win a lot. There are also bet max and autoplay options for you to go all out on your bets.
Bonus Features
Here are the classiest features that you can get from this game:
Three Worlds, Three Different Scatters
There are three worlds that you can visit in the game. The Workshop is the primary level of the game. You can access the stage world if you manage to collect 10 wagon symbols. Getting 10 books symbols can give you the Classroom Level. These levels have different scatters. These work regardless of position on the reels and wil provide different surprises which actually act as wilds. Here are the following:
Geppetto is the wild symbol of the Workshop. Getting him allows his space in the reels to become a sticky wild that can be used effectively for a certain amount of spins. This can substitute any other symbol except for the scatters in order to easily land combos.
Books are the wild symbols of the Classroom. These appear on reels 1, 3 and 5.
The Stage world contains the wagon as its wild symbol that's only found on the middle reel. This becomes a sticky wild for 5 spins – with Pinocchio dancing during the free spins round.
Real Boy Mode
Pinocchio can become a Real Boy by collecting 5 of the symbols that shows Pinocchio as a real boy. This turns all Pinocchio symbols into his real form symbols. These serves as a wild symbol for everything except the scatters.
Gamble Up
The game has a gamble up feature wherein you need to guess correctly to double your winnings. Another attempt doubles the prize again. But losing will give you no winnings at all. So be sure to decide well before gambling up.
A Fairy's Assistance
If there are no winning chances where in reels 1 to 3 are not giving players the chance to get a combo, a fairy occasionally appears to respin one reel in order to give you one more chance for free.
---
How Does It Look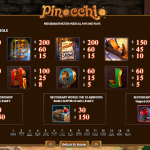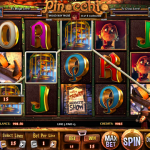 The Bottom Line
Pinocchio is truly an adventure that awaits you as the game contains a lot of amazing features to enjoy. There are different levels to explore and some extra bonuses that will surely be exciting to play. But getting the right symbols for these bonus features still requires your luck. But you also have to take note that this game is still a slots game. So be sure to focus well on the way you gamble with every spin you make and see how it will balance your wins and losses altogether.
If on the other hand you prefer card games then consider playing Pirate 21 Blackjack by BetSoft.
To play the real version of the game try playing in one of the following BetSoft casinos: