Pirate 21 Blackjack | Slot Game Review
The Vitals
In More Words
Pirates could get fond of gambling. There are some records in history which shows that some pirates do love playing cards. They wager their precious stuff with their crew mates or when they go into an island with people gambling. Gambling is a worldwide phenomenon after all. But this time, you are the one who's going to bet like a pirate here in Pirate 21.
Pirate 21 is a pirate-themed blackjack game. This game is a simple blackjack game where you only need to reach 21 as soon as possible. The game shows a table where you can see your cards and the money that you wagered for the game. There are five coins to choose from: 1, 5, 25, 100, 500. Your chosen coin amount will add your overall bet amount once you click on the place bet box. You can also bet on two more spots so then you can bet three hands at the same time.
Once you start the game, the dealer will draw two cards for each hand on-play. You get to choose between double for you to make an attempt in doubling your bet to win more. You can also choose hit if you're sure of the card's value. If you feel like your card's value isn't enough, you can also ask for another card. You can also clear the game and repeat it when necessary. But this may lose your bets if you do so.
Bonus Features
No.
---
How Does It Look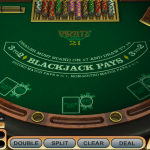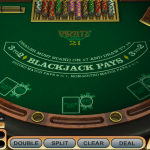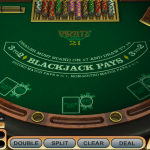 The Bottom Line
Pirate 21 is just your typical blackjack game. The rules are just as basic as the original game itself. There are actually almost no pirates in the game – it's just the title wherein the 21 represents the highest value in the game. So if you just want to relax and try to play some blackjack, this game may be the perfect one for you as it doesn't contain extra features – which most blackjack players may prefer.
If on the other hand Blackjack isn't your game then consider playing Poker3 Heads Up Hold'Em by BetSoft.
To play the real version of the game try playing in one of the following BetSoft casinos: