Pontoon Professional Series (Low Limit) | Slot Game Review
The Vitals
In More Words
Pontoon Professional Series (Low Limit) is a game that was developed by NetEnt. Everyone who is casino buff knows that this is the classical version of the very popular card game Blackjack. The setup of the game is very simple. There are 3 areas where you can place your bets and the dealer is situated at the top of the table. The chips are located at the bottom and the cards are placed to the right. You can play with up to 3 hands against the dealer's one hand.
The aim of this game is again to have a total of 21 or as close to 21 than the dealer's hand. The main difference between pontoon and blackjack is that both dealer's hands are faced down in this game. Once the cards are dealt the dealer will see what cards he has and in case he has a total of 21 the game is over. If he does not then it is the player's turn. There are a couple of options you have here, depending on the cards that you have in front of you. If you have a low hand you can ask for another card by clicking the twist button. If you have high value cards then you can stick, which is stand in standard blackjack. In case you have two of the same cards you can split them in two pontoon hands.
---
How Does It Look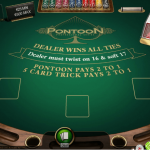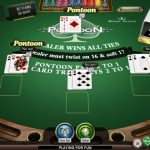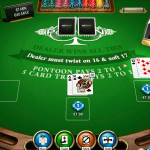 The Bottom Line
Pontoon Professional Series (Low Limit) is a nice addition to NetEnt's vast portfolio of online slots and card games. This turns out to be a very interesting game since it involves a lot of risk. The fact that you cannot see the dealers` hand and you have to make a decision how to play can be very thrilling. We would advise you to play this game if you are a beginner, since it is a low limit.
If you like eto try the double exposure blackjack version by NetEnt then click here.
To play the live version of the game go to one of the following casinos: