Pontoon Professional Series (Standard Limit) | Game Review
The Vitals
In More Words
Pontoon Professional Series (Standard Limit) is just another variation of a very popular card game Blackjack, brought to us by NetEnt. The design of the game is of a very high standard and we have a feeling like we are sitting on a table in a land based casino. A great addition to the game is the nice and relaxing music that plays in the background. And in case you are wondering what the thing with the name is, well Pontoon is the British option of the game.
What makes this game different from the other variations of the same game is the fact that the dealer cards are faced down. This means you cannot see what you are playing against, and that way the decision making process is more difficult and thrilling in a way. This is a game for risk takes and players who like challenges. In the standard version of the game you can play 3 hands at the same time. A Pontoon is a hand with two ten-valued cards and an Ace. In case there is a tie, the dealer wins. If you have a hand of 5 cards with the total of 21 this hand is called Charlie. You can stop taking cards once you reach 15 and higher. If you get cards with the same value you can split up to 2 times. You do not have the option of Surrender and Insurance in this variation.
---
How Does It Look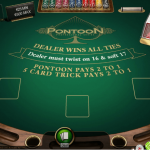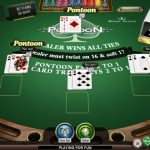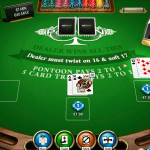 The Bottom Line
Pontoon Professional Series (Standard Limit) is a very nice card game from NetEnt. This game was created with every kind of a player in mind. Since it is standard limit you can find bets that are between low and high. This is especially good for players that are beginners and who are still learning the rules.
If you like to try the Low Limit version of this same game then click here.
To play the live version of the game go to one of the following casinos: