Punto Banco Professional Series (Low Limit) | Game Review
The Vitals
In More Words
Punto Banco Professional Series (Low Limit) is a game that was brought to us by the crafty hands of NetEnt. This is a variation of Baccarat another popular card game. The idea is to offer something for beginners, since this is a low limit game. The design of the game is superb, just like in any other game that comes from this provider. The fact that this game follows simple rules and offers exciting game play makes it so popular among players.
Thanks to the simple interface this game is very easy to master even if you are playing for the first time. At the bottom part you can see the control panel where you have the following buttons: New Bet is the button you are going to use every time you place a new bet, Rebet is a button that allows you to repeat the same bet and Deal is the button you press once you are comfortable with the bet size. The idea of the game is to guess who will win the current deal. You can place your bets on Punto, which is you or the player, the Banco, which is the dealer or on Tie which is the draw. Each bet has different payouts, so for instance the bet on the player will be paid 1:1, the bet on the dealer will be paid again 1:1 but with 5% commission and the draw is paid 8:1.
---
How Does It Look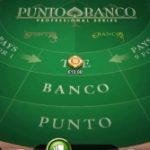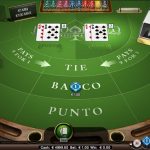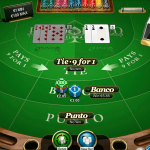 The Bottom Line
Punto Banco Professional Series (Low Limit) is the perfect game from NetEnt that was made for both low rollers and beginners too. This game will not leave anyone indifferent since it offers everything we are looking for in online baccarat. But before you start playing for real money we would advise you to try the demo version if you are a beginner of course.
Something different? well if you are a poker fan you have to check this Red Dog Progressive version by NetEnt.
To play the live version of the game go to one of the following casinos: