Red Dog Progressive | Game Review
The Vitals
In More Words
Red Dog Progressive is a poker variation brought to us by NetEnt. This is one of the most popular and thus the most interesting form of online poker. In terms of graphics, animations and sound effects we have the best quality in front of us. Thanks to the realistic 3D graphics we have a very lively game, you will feel just like you are playing one in a real life land based casino.
What makes Red Dog Progressive so special is the fact that you do not play against the house, but instead you are betting on the difference between the cards that are dealt. You are probably wondering what the progressive nature of the game means. Well, actually this is due to the fact that you can leave your winnings on the table and they can be used as the ante for the next hand. So, when you are feeling lucky you can use this to build up impressive prizes. There are 3 colored chips with different values. The blue chips are worth 1, the red chips are worth 5 and the yellow chips are worth 10. You can start betting between 1 and 100 coins.
---
How Does It Look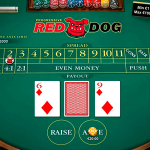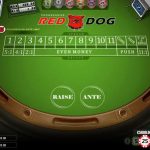 The Bottom Line
Red Dog Progressive is an impressive game from NetEnt. They always come up with games that are keeping players captivated for a really long time. After all, that is their specialty. The game, thanks to its 3D graphics is so realistic and that just add up to your experience. Red Dog Progressive is a great primer, especially if you are new to the table games. It offers a simple game play with not so many rules, so you can master the game play fast. But at the same time it will give you the delight of what other more complex games have to offer.
If on the other hand you like baccarat why not try this version from the professional series by NetEnt.
To play the live version of the game go to one of the following casinos: