Red Dog | Slot Game Review
The Vitals
In More Words
Red Dog is one of those digital table games that you will surely love to play if you feel tired of playing the usual slot games. This is excellent for those who want to learn a new type of poker game for betting purposes as this variation is not as popular as Big Two or Hold'Em.
The game appears to have a very basic mechanic. The game is played with the usual 52 cards. Two cards will be dealt to you, and you need to predict the third card that will be placed between the first two cards. The cards are valued using the usual poker mechanics – with the Ace being higher than the King. The game uses the term 'push' to cancel the game and return your bet to commence another round.
Players need to place their bet first before the dealer places teh first two cards. These cards are laid face up for you to see it. The third card is placed face down. There are certain conditions that can affect the game. For example, the first two cards can cause you a x11 winning if you manage to get a three-of-a-kind; not getting the same value for the third card 'pushes' the round. Another instance is that the game becomes a 'push' is when you get two consecutive values on your first two cards.
If the cards have a spread, you can raise your initial bet so then you can experience more thrill as you see if the cards will match. You have to make sure that the value of the third card is between the values of the first and second cards only. The size of your winning depends on the spread. This is marked on the table by the dealer for you to easily see.
Bonus Features
No.
---
How Does It Look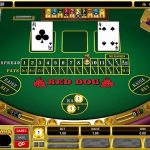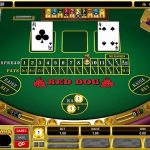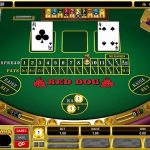 The Bottom Line
Red Dog is quite complicated for players who just wish to find a simpler game to play. But take note that this game contains high winnings that you may love to get if you wish to play big in this game. This is card game that will give you the thrills as you see the result which is the third card once it's placed face-up. So if you want an extra challenge in a card game, this one is for you.
For another great poker version consider playing Ride'M a 5 reel slot by BetSoft.
To play the real version of the game try playing in one of the following BetSoft casinos: