Ridem Poker | Slot Game Review
The Vitals
In More Words
There are several variations of poker that might just confuse us whenever we pick a type of poker game to play. Ride'Em Poker is just one of those many poker variations that has its own set of betting rules and card playing mechanics while following the general poker rules.
Understanding the general poker rules – which are the card rankings and orders – is very important before you proceed with any type of poker game. Ride-Em Poker is the title of a Let it Ride Poker game. This is where players need to make three equal bets on three circles on the poker table that's marked 1, 2, and $ from right to left. The dealer deals three cards for you and two 'community' cards face down for the dealer. The three cards are all yours.
If you think that it's not going to make a combination with the two community cards, you can cancel your bet in circle one. If you choose to "let it ride'", you just have to retain your bet and stay in the game. If you let a bet ride, you must make it stay on the table until the end of the whole round. The dealer turns one of the two cards face up. You can now take your circle 2 bet back as well or let it ride. Your initial decision for circle 1 doesn't affect the choice for circle 2. This means that the $ must always stay in play whether you win or lose, and circles 1 and 2 determine your confidence in betting for your hand.
Getting the highest combination causes the dealer to pay the circles or the $ if it's the only one remaining. Losing will lose you everything!
Bonus Features
No.
---
How Does It Look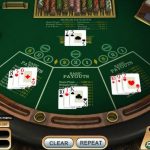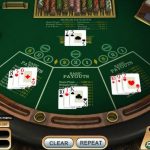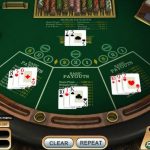 The Bottom Line
Ride'Em Poker doesn't seem to have a complicated mechanic just like any other poker variation. You just have to understand the rules and the betting mechanics so then you won't lose a lot of money. You also have to be good at bluffing here so then you can win, or at least bet at a safer pace without losing too much of your cash.
If like us you just love rock then you just have to consider playing Rockstar a 5 reel slot by BetSoft.
To play the real version of the game try playing in one of the following BetSoft casinos: