Roulette Advanced (Standard Limit) | Game Review
The Vitals
In More Words
Roulette Advanced (Standard Limit) is a casino table game from NetEnt. The first thing we noticed in this game is that the table is a lot darker than in other variations. This turns out to be a great thing especially if you are playing for a while since the numbers are clearer and it is better for your eyes. The roulette wheel seems a bit small but you can always play the game in full screen.
Before you start playing the game we advise you to get to know with the basics of the game. And since this is advanced game it is definitely not for beginners. You can test your luck with other games and gradually earn your way to Roulette Advanced (Standard Limit). The minimum bet in this version is $10 and the maximum is $5.000, which is quite high. This is the only difference since the basics of the game are the same. You can place bets on odds and evens, reds and blacks and high and low bets. The racetrack grid is available all the times and you can place bets here as well. And on the panel on the left you can place special bets too.
---
How Does It Look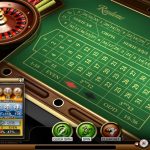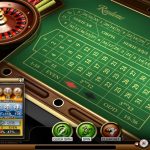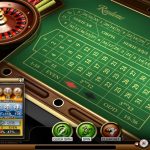 The Bottom Line
Roulette Advanced (Standard Limit) from NetEnt is highly appreciated table game. Anyone who likes to play roulette with high stakes will find this game to be perfect for that. The rules are the same as in most other roulette variations and the only difference is the standard betting limit which may seem high to some players. We would say that playing this game can bring lots of joy but be very careful. If you are still unsure of how the game is played then we advise you to go through the rules or try a roulette version that offers low limit bets.
If you like to try the Low Limit version of this very own game then click here.
To play the live version of the game go to one of the following casinos: