Single Deck Blackjack Professional Series (Low Limit) | Game Review
The Vitals
In More Words
NetEnt is a very well established software provider that is behind many popular games and Single Deck Blackjack Professional Series (Low Limit) is one of them. What makes this game stand out from every other game is the fact that it incorporates not only modern features but also graphics. It simply has everything what we are looking for in a game of this kind.
We hope that you are familiar with the rules of Blackjack in order to play this game. In case you do not, we will go through it very fast one more time. The objective of the game is to have a hand that is closer to 21 than the one of the dealer. If the player or the dealer has a natural blackjack the game is over. The rules are the same as in the standard game. So, for instance if the dealer holds a hard 17 he must stand and on soft 17 he must hit. And when it comes to the player, well it is up to you how you want to play your cards. You can stand, hit or split.
---
How Does It Look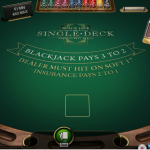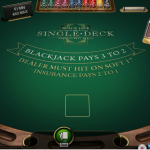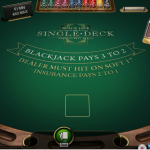 The Bottom Line
NetEnt has created Single Deck Blackjack Professional Series (Low Limit) especially for beginners. Of course players who have limited budget but still want to enjoy a game of blackjack can choose this variation and play it safe. This game imposes bet limits of between 0.01 and 5.00 and this makes the game to offer the lowest limit from all the similar games. Even though at first look this game looks fairly easy to play, but we would advise you to get familiar with the rules before you start placing bets. It is a combination of a little bit of knowledge and a little bit of luck.
If you like exploring Pontoon by NetEnt then click here.
To play the live version of the game go to one of the following casinos: