Sunset Reels | Slot Game Review
The Vitals
In More Words
Sunset Reels is a video slot game from Realistic Gaming that offers you the perfect ending for a long and busy day. Seeing all those familiar symbols in our favorite classic game is priceless. It seems like they did a really good job by creating this particular game. The symbols are nicely presented in a 2D graphics just to keep in line with the retro look of the game. The reels are set in a realistic slot machine just like the ones that you will find in a land based casino.
Bonus Features
Someone said that simple things bring enjoyment to our life. We do not whether they thought of this game or something else, but that saying can easily be applied to describe Sunset Reels. The game play is very easy so even if you are a beginner you can learn how to play with couple of spins only. There are no special symbols here like scatter or wilds, which means there are no over complicated special features either. This will allow you to enjoy the simple spinning of the reels and take some big wins with you.
---
How Does It Look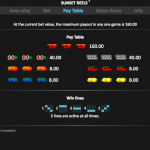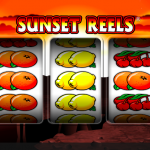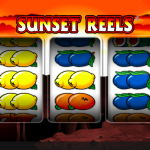 The Bottom Line
Sunset Reels is a high variance slot from Realistic Gaming. So this means that do not expect to earn big in couple of spins. This might seem like a very simple game to play but actually it is design for all those risk takers who are not afraid to lose some money. After all, you cannot win big if you are not prepared to risk. The game play is straightforward and there is no special feature here which means the focus is on the game itself. The betting options are wide so every kind of a player can find the right bet for them and enjoy Sunset Reels.
For another great engaging game you should consider playing Sunrise Reels a 3 reel slot by Realistic Games.
To play the live version of the game go to one of the following casinos: