True Illusions | Slot Game Review
The Vitals
In More Words
Illusionists are people who can really mesmerize your eyes as they can create tricks that you wouldn't believe that it really happened. There are some who can cut their body in half but move it without hurting the illusionist. But in this game of True Illusions, your illusion of being rich will come true.
This game is a magic show themed game that features 3D animations such as the illusionist on the stage. The slot machine is presented on the stage while the illusionist talks or do some tricks. Symbols in the game include various magic trick items and the magician's assistant.
This game will magically grow your money if you're lucky enough. That's why you should start placing your bets by pressing the card options below the stage. You can also press the hat for a max bet spin to maximize your attempt to win bigger.
Bonus Features
Wild Symbol
The wild symbol has the letters WILD on it. This shows a magic trick and some illusions where you can choose one for a lucky prize. The wild can also substitute for the other symbols to help you land combos even more. This also gives free spins for more chances to win.
---
How Does It Look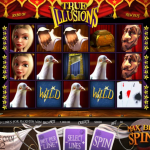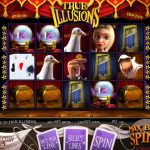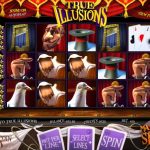 The Bottom Line
The game seems to be pretty focused on excellent graphics only, as the game doesn't contain any extra bonuses like the scatter symbol. But still, True Illusions can bring you a wonderful experience if you manage to land on the wild symbol. However, the symbol is quite hard to get. So some may not find the game too appealing to play.
If you want to play in the big league you might want to try consider playing Tycoons a 5 reel slot by BetSoft.
To play the real version of the game try playing in one of the following BetSoft casinos: